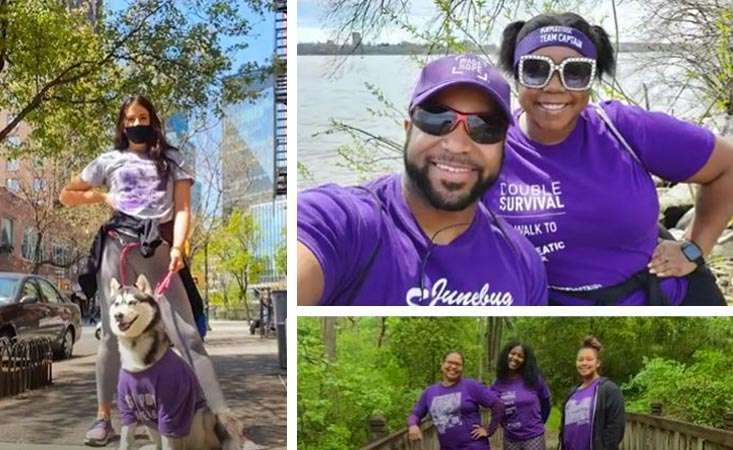 "That's why we hike, bake, bike, swim…" says a new national digital advertising campaign debuting this week on Facebook and Instagram, as well as cable television in select local markets, highlighting the Pancreatic Cancer Action Network's (PanCAN) PurpleStride events.
PurpleStride is the national movement to end pancreatic cancer. Participation and fundraising support PanCAN's programs and services to change outcomes for patients.
And this year, as many PurpleStride walks nationwide have transitioned to Virtual PurpleStride events due to the coronavirus pandemic, supporters have still participated on their own, and in ways that are meaningful and personal to them and their loved ones.
The video ad encourages people to register to join PurpleStride.
It features user-generated content, submitted on social media by hundreds nationwide. Photos and videos show their devotion to the cause – as many have been personally affected by the world's toughest cancer.
Striding for "brothers, patients and survivors, 'Pop-Pop'" and other loved ones – are participants of all ages.
Keri DiMarco's sons are featured in the campaign, which will air for the next five weeks.
The Pittsburgh family did a trail walk – socially distanced – in honor of Keri's mother, Gail Hamblett, who died nearly eight years ago of pancreatic cancer.
"The kindest, warmest woman you'd ever meet, who loved her children and grandchildren beyond measure," she said of her mom. "I lost her only months after becoming a mom myself. And she never got to meet my twins. PurpleStride is one of the many ways we keep her memory alive as Team Grammy Gail."
Keri added, "Seeing all the others near and far on the PanCAN Facebook page, who were all walking toward the same goal we were, brought such a sense of community in a time where we were mostly isolated."
Other featured participants include, in order, Lisa Schweigart of Nevada, Kaz Iwamoto of Los Angeles and Courtney Hermeling of South Carolina.
If you live in Milwaukee, Washington, D.C., or Chicago – all cities in which Virtual PurpleStride events will take place in the coming weeks, keep an eye out for the commercial on cable networks A&E, CMT, Discovery, DIY, Food, HGTV, Lifetime, Nat Geo, TBS, TLC, Animal Planet, TNT, Travel and USA.