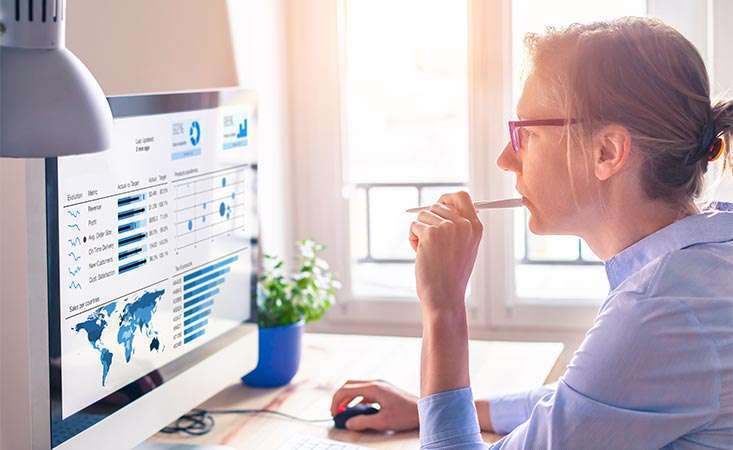 The International Agency for Research on Cancer (IARC) released new global cancer statistics on Sept. 12. Of the 18 million cancer diagnoses predicted worldwide in 2018, nearly half a million will be pancreatic cancer.
"Every day this year, more than 1,200 people – representing all corners of the world – will be told, 'You have pancreatic cancer,'" said Julie Fleshman, JD, MBA, president and CEO of the Pancreatic Cancer Action Network (PanCAN). "These are not just numbers – they are our friends, neighbors, family members and colleagues – and we must Demand Better for each one of them."
In addition to her leadership role at PanCAN, Fleshman also serves as chair of the World Pancreatic Cancer Coalition (WPCC) steering committee. The WPCC includes more than 70 organizations from over 30 countries on six continents.
"Seeing these alarming global stats, which include a prediction of more than 430,000 pancreatic cancer deaths worldwide this year, underscores the importance of coming together through the WPCC," Fleshman said. "Pancreatic cancer is a global problem that requires a global solution."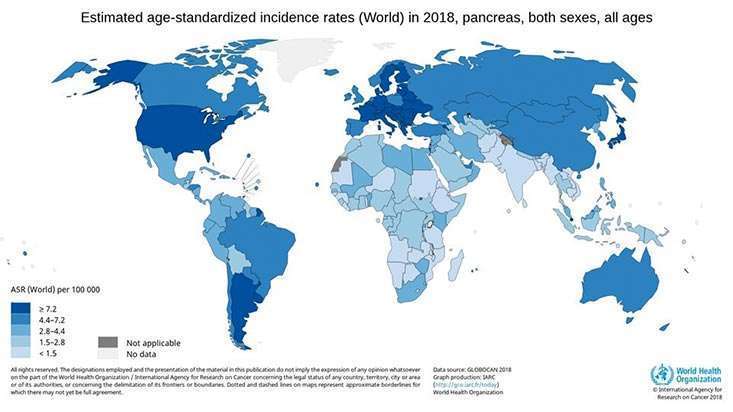 The incidence rate, or number of people per 100,000 who will be diagnosed with pancreatic cancer this year, varies between countries. Data source: GLOBOCAN 2018
Graph production: IARC (
http://gco.iarc.fr/today
)
World Health Organization
Worldwide, pancreatic cancer is the seventh leading cause of cancer-related deaths. However, its toll is higher in more developed countries. In the United States, for example, pancreatic cancer is the third leading cause of cancer-related deaths and is predicted to become second around 2020.
"The way to reverse these trends and improve pancreatic cancer patient outcomes is through more research and increased awareness of the disease and its symptoms," Fleshman said.
Scientists and clinicians around the world are working tirelessly to solve some of pancreatic cancer's biggest mysteries: What exact changes take place in a healthy cell of the pancreas to make it turn cancerous? What clues, or biomarkers, may be present that can signify the presence of the disease in its earliest, more treatable, stages? What treatment, or combination of treatments, can selectively and effectively kill the cancer cells and spare healthy cells within the body?
"The answers to those questions will come from rigorous laboratory and clinical investigations," Fleshman added. "Through our work at PanCAN privately funding research and advocating for increased federal resources, and by raising education and awareness with the WPCC, we feel confident that these grave statistics will start improving."
She continued, "It's timely to learn of these new statistics as we are gearing up for Pancreatic Cancer Awareness Month in November, which includes World Pancreatic Cancer Day on Nov. 15.
"Working together, we can and will improve the outlook for pancreatic cancer and, most importantly, help pancreatic cancer patients throughout the world live better, longer lives."
Donate today
to support PanCAN's urgent mission to advance research, support patients and create hope for everyone affected by pancreatic cancer.