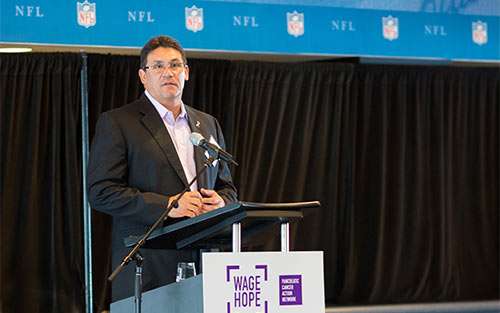 Though Carolina Panthers Head Coach Ron Rivera may be used to leading his team from the sideline, he is taking center stage to raise awareness for pancreatic cancer.
Coach Rivera became involved with our organization after his brother Mickey was diagnosed with the disease. After only two years, Mickey lost his battle in 2015 at the age of 56.
Mickey was Coach Rivera's first and best teammate – which explains why he was rallying the Charlotte community at PurpleStride Charlotte just two short months after Mickey passed away from the disease.
"Partnering with the Pancreatic Cancer Action Network allows me to not only honor my brother, but to take action against this deadly disease," Coach Rivera said. "Too many people have lost loved ones to pancreatic cancer and without increased awareness and more people taking action, we cannot take down the disease."
That's why Coach Rivera encourages everyone to get involved with their local PurpleStride event.
"I encourage everyone to get involved with their local PurpleStride event," Coach Rivera said. "PurpleStride means a great deal to me and I walk away from the event feeling closer to my brother. There is nothing like seeing a sea of purple and thousands of people dedicated to tackle pancreatic cancer."
Coach Rivera has been actively involved with the organization on both the local and national level for the past two years. We are excited to announce the Ron Rivera landing page on our site, where you can stay up-to-date with Coach and what he is up to with our organization.
This football season, you can bet that we are all rallying behind Coach Rivera, chanting, "Wage Hope! Wage Hope!"
To register for your local PurpleStride, please visit www.purplestride.org.