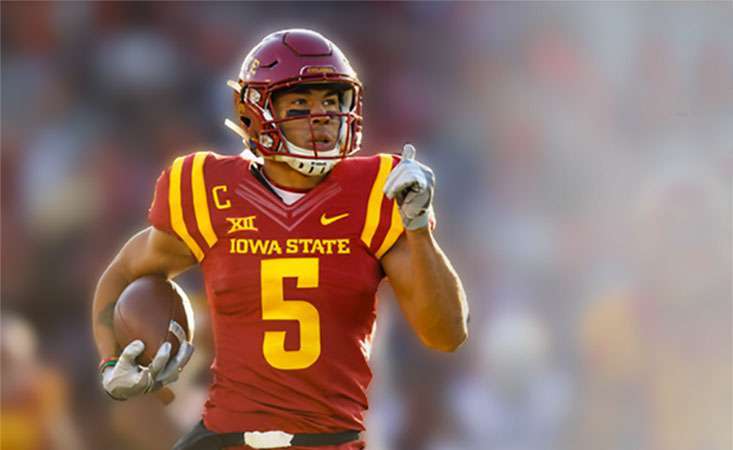 In preparation for the NFL draft, two prospects will raise money to support the efforts of the Pancreatic Cancer Action Network (PanCAN), as they showcase their skills and ability for NFL scouts in the coming weeks.
Pancreatic cancer has impacted both Allen Lazard, a former Iowa State University wide receiver, and Cory Helms, a former University of South Carolina offensive guard. This led both athletes to use their growing platforms to raise money for PanCAN, while participating in pre-draft combines.
Lazard lost his grandfather, Ernest Allen, to pancreatic cancer, while Helms became familiar with the disease when doctors diagnosed his high school offensive line coach, Mike Scott, at the age of 36.
"[My coach] was diagnosed in the middle of the season, and he passed in December, three months later," Helms said. "He left behind a wife and two kids who I'm really close with. That's why I decided to do this."
Lazard's grandfather passed away in 2014 at the age of 82. Losing such an instrumental figure in his life still weighs heavily on him.
"He was one of the most influential people in my life. He meant a great deal to my family and myself," Lazard said. "Raising awareness for the disease is how I want to honor him and thank him for everything he's done for me."
Lazard was one of only 336 players invited to the NFL Combine, a week-long event where college football players perform physical and mental tests in front of NFL coaches and scouts. Lazard, a four-year starter for the Iowa State Cyclones, amassed 241 catches for 3,360 yards and 26 touchdowns during his career.
When he was invited to the combine and offered a chance to support an organization, Lazard immediately knew where his support would lie.
"When presented with the opportunity to help a cause, this one came to mind right away because this is something that hit home for me," he said.
Lazard will be raising money through his pledge, Leaping for Pancreatic Cancer Action Network, where he will compete in the vertical jump.
"I set my mark at 35 inches just because it's an easy number I can get," said Lazard. "A donation will be made for every inch I jump."
Giving back is not unusual for Lazard who relishes the opportunity of using his platform to help those who are in need.
"In college, I did as many volunteer activities as I could," he recalled. "The thing I loved about Iowa State was every Friday before a home game, we would go to the local hospital and visit patients to talk to them and let them know we were thinking about them."
Helms, the 6-foot 4-inch, 300-pound former freshman All-American, will raise money through his pledge,  Reps for Research, where he will compete in a 225-pound bench press drill. Helms will perform in front of NFL scouts at the University of South Carolina's pro day, the university's personalized NFL combine.
"The pledge has a category where you can donate a flat amount, or you can donate toward my performance," Helms said. "If you want to donate $1 per repetition and I get 30 repetitions of 225-pounds, then it will equal a $30 donation."
Helms believes his pro day won't be the only time he will have an opportunity to help raise awareness in the pancreatic cancer community.
"I hope to keep ties with PanCAN because it's close to my heart," Helms said.
Lazard and Helms both look to raise $3,000 by the end of their workouts. All proceeds will be given to PanCAN to help raise awareness and funds for its goal of doubling survival by 2020.
University of South Carolina's pro day will take place March 30, while Lazard will participate in the NFL combine in Indianapolis from Feb. 27 to March 5.
Lazard is eager to prove to NFL scouts that he has what it takes to succeed at the pro level, while continuing his philanthropic efforts.
"It's nothing new to me; this is what I'm all about," Lazard said. "I want to give back to the community. I want to give back to people. I want to make this world we live in a better place."
PanCAN needs your support to improve patient outcomes and double survival by 2020. Please donate today.