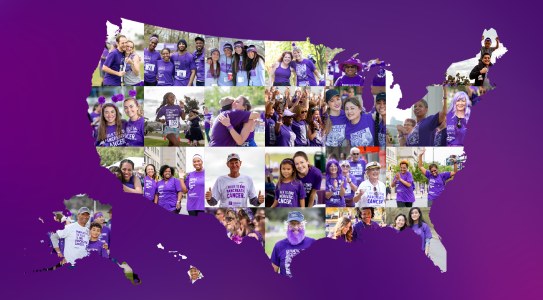 PanCAN PurpleStride is back!
On Saturday, April 30, 2022, be a part of something special when, for the first time ever, PanCAN PurpleStride events nationwide come together – in person – on One Big Day to take steps to end pancreatic cancer.
Having PanCAN PurpleStride events on the same day is an exciting opportunity to turn the nation purple and strengthen the movement to create more awareness and raise funds for research and patient support.
Through PanCAN PurpleStride, you can take local action and have a nationwide impact – helping pancreatic cancer patients, caregivers, loved ones and everyone else affected by the disease. Your fundraising gives free, personalized, one-on-one support to patients and families and helps fund the research that will get us to our vision of a world where pancreatic cancer patients thrive.
PurpleStride is a walk for everyone – even those who do not live within driving distance of an in-person event.
If you are unable to make it in person, sign up for PanCAN PurpleStride USA, which gives you the opportunity to take steps in your own way, doing what you enjoy from wherever you are.
Register and raise your first $25 by October 6, and as a thank you for your support, we'll send you a pair of limited‑edition PanCAN PurpleStride shoelaces to wear on event day.

But wait – there's more!
Register and raise $50 or more and you'll receive a PanCAN PurpleStride T-shirt
Register and raise $1,000 or more and you'll become a member of the exclusive PanCAN PurpleStride Grand Club and receive a special gift
In whatever way you choose to participate, register and start fundraising for pancreatic cancer patients today.
We can't wait to see you at PanCAN PurpleStride on April 30, 2022!