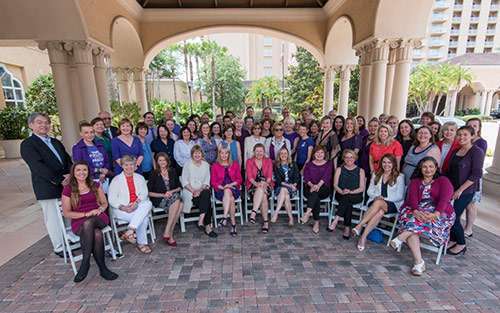 More than 60 representatives from 42 pancreatic cancer advocacy organizations around the globe will meet next week to collaborate and share hard-hitting ideas for driving transformational change for pancreatic cancer through increased disease awareness and research funding.
The meeting, to take place in Montreal, Canada, May 2-5, is hosted annually by the World Pancreatic Cancer Coalition (WPCC), of which the Pancreatic Cancer Action Network is a founding member. This marks the second year of the WPCC Annual Meeting.

World Pancreatic Cancer Coalition members at their Annual Meeting last year in Orlando, Fla.
WPCC members to convene in Montreal represent 20 countries – from the United States and Canada to South Africa, Japan, Australia, Hungary, Slovenia and many in between.
The Pancreatic Cancer Action Network will be represented by President and CEO Julie Fleshman. She serves as chair of the WPCC Steering Committee.
"It's remarkable to have so many organizations from around the world coming together to collaborate, share best practices and brainstorm new ideas about how we'll change outcomes for people with pancreatic cancer," Fleshman said. "The camaraderie, shared determination and positive, powerful energy that's present as we work toward our common goal is incredibly inspiring."
The Annual Meeting, sponsored by Celgene Corporation, Shire and Halozyme, Inc., will feature a variety of speakers from various WPCC member organizations, as well as a pancreatic cancer scientific session featuring speakers from Canadian healthcare institutions and Georgetown University in Washington, D.C.
The group will also discuss plans for World Pancreatic Cancer Day 2017, which will take place on Nov. 16. World Pancreatic Cancer Day is an initiative of the WPCC.
In 2013, pancreatic cancer patient advocacy organizations from around the world, with founding sponsor Celgene Corporation, began discussions about how best to support each other's efforts while raising global awareness for the deadly disease. The WPCC was created as a result.
Around the world, pancreatic cancer is the seventh most common cause of cancer-related death.1 Only 2 to 10 percent of those diagnosed globally survive five years.2

Sources:
1 Ferlay J, Soerjomataram I, Ervik M, Dikshit R, Eser S, Mathers C, Rebelo M, Parkin DM, Forman D, Bray, F.GLOBOCAN 2012 v1.0, Cancer Incidence and Mortality Worldwide: IARC CancerBase No. 11 [Internet]. Lyon, France: International Agency for Research on Cancer; 2013. Available from: http://globocan.iarc.fr, accessed 03/14/16.
2 American Cancer Society. Global Cancer Facts & Figures 2nd Edition. Atlanta: American Cancer Society; 2011