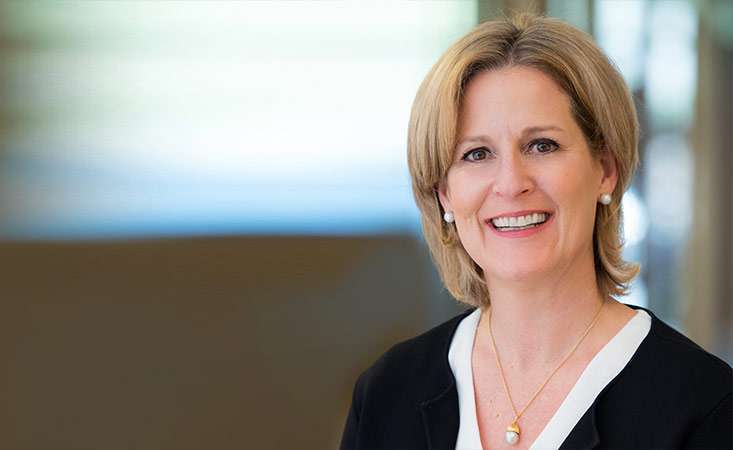 Editor's note: We recently sat down with Hilarie Koplow-McAdams, vice chair of the Pancreatic Cancer Action Network (PanCAN) Board of Directors, to discuss her role on the Board and how she is using her expertise in technology to help the organization fight the world's toughest cancer. She lost her father to pancreatic cancer in 2012, less than two years after his diagnosis. Here, she shares her inspiration – and aspirations.
PanCAN: Tell us about your experience on the front lines of pancreatic cancer with your dad.
HKM: We were fortunate to have learned about PanCAN soon after my father was diagnosed, and the PanCAN Patient Services Team was a great resource for our family. We consulted with them frequently. We were given a lot of helpful information, as well as a list of clinical trials for him to consider, and we used PanCAN to validate that we were making the right decisions with his treatment and care.
PanCAN: You've said your father was an engineer and that he approached his illness in a unique way.
HKM: He modeled his pancreatic tumor out of clay, and he would bring the clay models to his doctor appointments. He predicted its growth rate based on his tumor markers. Today, patients can take advantage of PanCAN's Know Your Tumor® precision medicine service for molecular profiling, but that wasn't an option for my dad at the time. After he passed away, an autopsy was performed and remarkably, the autopsy revealed that his tumor was very much like what he had modeled. One of the reasons I feel so strongly about what PanCAN is doing through Know Your Tumor and the Patient Registry – sharing information for the benefit of future patients – is that this is precisely what my dad would have wanted.
PanCAN: Why did you decide to join the PanCAN Board of Directors?
HKM: After Dad passed away, I attended my first PurpleStride walk in San Francisco. There, I got introduced to not only a warm and welcoming community of people who had experienced what our family had, but also to PanCAN's leadership. I met Julie Fleshman, the president and CEO, and I was impressed by her vision. I realized that – given my background in scaling tech companies, and with my connections in the industry – I could likely help. I saw PanCAN as a nonprofit that could connect the dots – and often fund the dots – between clinicians, researchers, drug developers and patients.
PanCAN: Talk about your career trajectory and the synergy between it and innovation at PanCAN.
HKM: My dad's career was in research and development, so it was a familiar space to me. After college, I landed a job with Oracle Corporation, a hot startup at the time, and I stayed almost two decades. What kept me there – and in tech – was the notion that there is always a better way – a disruptive way to bring new approaches to market that are often easier and less expensive. That's always been my mantra. After Oracle, I went to Intuit and then Salesforce.com. I was at Salesforce when it was relatively small and was there for the rapid growth years. Then I moved to New Relic – they're in the digital intelligence space – and I helped them go public three years ago and realize their dreams of enabling enterprises all over the world. It was an amazing experience. Now I'm with the venture capital firm NEA, helping to identify and grow the next big winners in technology. There are significant parallels between the tech world and what PanCAN is doing with Know Your Tumor and Precision PromiseSM [the first response-adaptive randomized clinical trial platform for pancreatic cancer patients in the world] as it relates to collecting data and leveraging it to get answers for how to better fight pancreatic cancer. My involvement with PanCAN is a very natural fit for me.
PanCAN: What PanCAN initiative do you think has the most potential to change the course of pancreatic cancer?
HKM: There are actually four important initiatives that support a precision medicine approach to the treatment of pancreas cancer – Know Your Tumor, Precision Promise, Clinical Trial Finder and the Patient Registry. The ability for patients to have their tumor profiled through Know Your Tumor, and then to participate in the Registry so scientists can use the collective data – this is a great foundation for getting data out of siloes and allowing access to it for learning purposes. And Clinical Trial Finder, which arms patients with information about what trial or treatment could be right for their tumor, is a great segue to Precision Promise.
PanCAN: What would your dad say about the work you're doing with PanCAN?
HKM: He would be such an advocate of PanCAN's disruptive and bold approach to driving innovation in the science of treating pancreas cancer. It's a wonderful way to honor his legacy.
PanCAN: You serve on other Boards besides PanCAN's, and you're a busy mom to two daughters. What drives you?
HKM: Yes, I am honored to sit on the boards of several exciting companies, along with the visiting committee for The Harris School of Public Policy at the University of Chicago. Each organization sees data as a leverage point for a better future. My daughters are in high school and college. It's busy! But when you're doing work that you feel passionate about, it makes all the difference. I enjoy trying to model for my kids that they can do anything, along with the importance of being analytical, to think critically and strive for breakthroughs. Plus, it's easy to work with organizations that have committed leadership teams with a desire to bring about change.
PanCAN: What inspires you most when you think about the future of pancreatic cancer?
HKM: All of the organizations I've worked with have shared a consistent theme – they are mighty tech companies who think about data as an asset, they're putting in place a solid growth strategy and they're trying to change the world. PanCAN is looking to leverage data as an asset to drive a breakthrough in the treatment of pancreas cancer. No doubt they are making an impact in the field, and I can't wait until the case studies are written about this mighty nonprofit.
PanCAN: What is the one thing you wish everyone knew about PanCAN?
HKM: Two things: They offer resources for patients and families throughout the journey and should be everyone's first stop after diagnosis. And that it is foundational for us all to support Know Your Tumor and Precision Promise – with our dollars, word of mouth and time. The greatest frustration for me is when I hear of someone with pancreatic cancer who hasn't found PanCAN.
For more information on pancreatic cancer and supportive resources, contact PanCAN Patient Services.