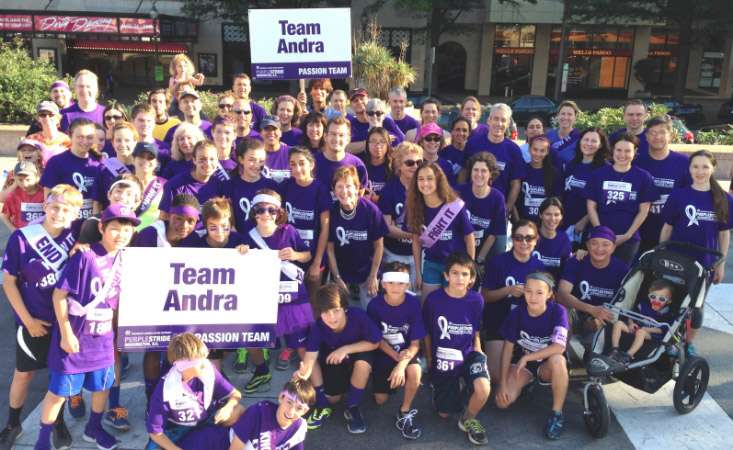 Peter Cashion lost his wife, Andra, to pancreatic cancer in 2013 at the young age of 45. Over the past decade, he's been channeling that grief into action by championing PanCAN at every turn and fighting hard for patients with pancreatic cancer and their families.
The PanCAN PurpleStride team he created, called "Team Andra," has raised an astounding amount -- over half a million dollars -- since its founding in 2013. And in 2018, Peter stepped into a leadership position by joining the PanCAN Board of Directors, a role that informs PanCAN's work nationally.
In recognition of his deep dedication to PanCAN and all patients facing pancreatic cancer, Peter has been awarded the 2023 Cash, Sweat and Tears Award from the Peer-to-Peer Professional Forum. Cashion was selected as the most inspiring volunteer participant from numerous nominations made by nonprofit organizations.
In PanCAN's nomination letter, PanCAN Community Relationship Manager Anna Somers pointed to Peter's leadership and deep commitment to changing outcomes for people diagnosed with this difficult disease as particularly moving.
"He works tirelessly to raise awareness for pancreatic cancer and PanCAN and his relentless passion for the cause is inspiring," she said. "Peter is committed to ensuring that one day no other family will have to experience the loss his did, and his leadership and dedication to PanCAN's mission have been integral to the organization's success."
As a national board member, Peter and other members oversee and provide guidance on the mission, program services and overall fiscal standards of the organization to advance PanCAN's strategic objectives. Outside of PanCAN, Peter serves as a Chief Investment Officer at the International Finance Corporation (IFC), a member of the World Bank Group, in Washington, D.C.
In their statement announcing the 2023 Cash, Sweat and Tears Award, Peer-to-Peer Professional Forum President David Hessekiel said Peter's example serves as an important example of the power of peer-to-peer fundraising, which relies on supporters participating in an activity together – such as walking or biking – and raising money for a cause or organization by reaching out to friends and family.
"Amazing people like Peter Cashion who expend enormous energy to support nonprofit groups they hold dear are the heart and soul of peer-to-peer fundraising," he said. "We are proud to honor Peter as a symbol of the millions of volunteers who energize organizations with their contributions of time and talent."
PanCAN depends on this grassroots network of thousands of volunteers nationwide to raise awareness of the disease and to fund our diverse programs including PanCAN Patient Services, which provides free resources and support to patients and families. Peter said his family turned to PanCAN when Andra was diagnosed, calling the Case Managers an "invaluable source of information." Along with his two sons, he's motivated to give back to make sure other families have this same support during a difficult time.
"Mobilizing our friends and family to fight this disease has been so important and empowering for me and my boys," Peter said shortly after he joined the PanCAN Board of Directors in 2018. "It gives us a concrete way to fight back against the disease and honor Andra."
Members of "Team Andra" will be out in full force again this year for PanCAN PurpleStride Washington D.C. on April 29, and they've already raised more than $80,000 of their $115,000 goal. It's a day to come together in memory of Andra and make a difference for patients with pancreatic cancer fighting now and in the future.
60 events. One big day. Together, we will end pancreatic cancer. Find your local PanCAN PurpleStride, register for free and
start fundraising today
.