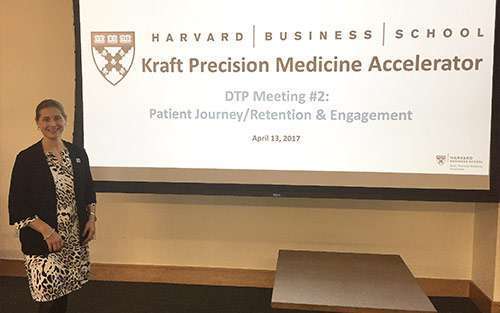 Earlier this week, we were featured in the Harvard Business Review for our role in the novel HBS Kraft PM Accelerator initiative.
The Accelerator's mission is to speed medical breakthroughs in precision medicine, the process by which genomic information and other unique characteristics of a person's disease are used to predict which treatments will be most effective. Four paths have been identified toward Acceleration across all cancers: direct-to-patient, data and analytics, rational clinical trial design, and investment/venture capital.
For the past 6 months, our vice president of marketing, Jenny Isaacson, has served on the direct-to-patient committee, alongside representatives from four other patient advocacy organizations including: the LUNGevity Foundation, the Metastatic Breast Cancer Research Alliance, the Multiple Myeloma Research Foundation, and the Prostate Cancer Foundation, all widely recognized for their efforts to expand the use of precision medicine.
"It's been inspiring to be a part of this direct-to-patient initiative. This is a super-collaborative collection of great leaders, joining forces to support each other and our patient populations," stated Isaacson. "By following a Collective Impact approach, we've established a shared culture and shared goals, which will enable us to tackle some of the significant obstacles to advancing precision medicine for the benefit of all patients."
Learn more about the Kraft PM Accelerator initiative.
Read the full article from the Harvard Business Review.