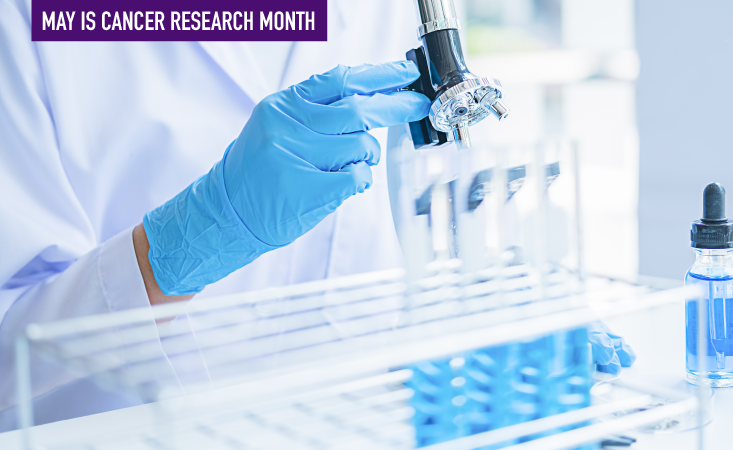 Editor's Note: This blog post was originally published in May of 2022 as part of National Cancer Research Month. It was updated in November of 2022.
PanCAN Precision Promise is our adaptive clinical trial created to bring better treatments to pancreatic cancer patients faster. The design of the trial makes it more efficient, requiring fewer patients and less time than a traditional clinical trial – helping us more quickly identify which treatments are most effective.
Precision Promise opened in April 2020 and began enrolling eligible patients across 15 world-class cancer treatment institutions across the country. Since then, over 300 patients have been enrolled. Today patients can enroll at one of 23 sites in the United States. By mid-2023, we expect to operate Precision Promise at 30 sites nationwide.
Here, PanCAN President and CEO Julie Fleshman, JD, MBA, shares the latest updates on PanCAN Precision Promise.
Julie, please remind us why clinical trials are important for every pancreatic cancer patient to consider.
Clinical trials are the only way to determine whether an experimental treatment option is safe and effective. All treatments available today were tested through clinical trials and then approved by the FDA. And evidence shows that pancreatic cancer patients who participate in clinical research have better outcomes. At PanCAN, we strongly recommend that patients discuss with their healthcare team if clinical trials are an option for them at diagnosis as well as during every treatment decision.
PanCAN was the first pancreatic cancer nonprofit to develop, sponsor and lead an adaptive clinical trial platform – Precision Promise. Why did we see that as critical for patients?
Progress for pancreatic cancer patients has not been fast enough. New treatment options are needed for patients to live longer, and those had not been happening at the pace we wanted to see.
Clinical trials are critical, but there are challenges with the traditional clinical trial process. It's costly, it's slow and the results don't necessarily build on each other – the field hasn't been learning from them like it should.
At PanCAN, we've never shied away from trying something different. So, we began thinking about a new approach to pancreatic cancer clinical trials.
We had several goals – to create a clinical trial design where each finding informed the next one, that learned from every patient and that put the patient at the center of every decision. A design that took less time and required fewer patients to test a treatment, and a design that would cost less money so it could de-risk pancreatic cancer drug development for pharmaceutical companies.
The adaptive design of Precision Promise is different than standard clinical trials. Meaning, with Precision Promise, if a drug is not working, it can be pulled from the trial and another treatment can take its place. And if a drug is working, it can move more quickly to the FDA for potential approval.
Also, multiple treatments can be tested at the same time, and only 175 patients are needed in order to know if a treatment is working.
Most importantly, our number-one goal with Precision Promise is to transform outcomes for pancreatic cancer patients.
Talk about how Precision Promise has expanded to be offered at more sites, and why site location is important.
Precision Promise opened in April 2020 and began enrolling eligible patients across 15 world-class cancer treatment institutions across the country. Since then, over 300 patients have been enrolled. Today patients can enroll at one of 23 sites in the United States. By mid-2023, we expect to operate Precision Promise at 30 sites nationwide.
In expanding, we focused on recruiting sites in the South and Midwest because they were geographic areas where we lacked a strong presence.  We also focused on sites that have high proportions of minority populations and established minority outreach programs, and it was important to us to expand access of the trial to typically underserved communities.
View our webinar
, "The Impact of Your Gifts: How You're Advancing Pancreatic Cancer Research," which aired in May of 2022. Researchers, physicians and a PanCAN donor discussed PanCAN Precision Promise, PanCAN Early Detection Initiative and more.
What have we already learned through Precision Promise?
One of the goals of Precision Promise is to win faster and fail faster. We want to get new treatments that work to patients faster, but we also want to stop testing treatments that don't work. Throughout the design and execution of the trial, patients and their safety are at the center of every decision.
Recently, the expert Data Safety Monitoring Board (DSMB) of oncology specialists and statisticians that regularly watches patient outcomes and reports of side effects to determine whether a treatment should continue in Precision Promise, informed us that enrollment of patients in the first experimental treatment tested within the trial had been discontinued. Patients treated with it alone showed a lower overall survival rate than patients treated with standard chemotherapy.
This was disappointing news. But Precision Promise's adaptive design did exactly what it is supposed to do. It determined more quickly than a traditional trial would have done that this treatment wasn't working and discontinued giving it to patients. Precision Promise is functioning as it was intended: to learn faster with fewer patients.
How are patients in PanCAN Precision Promise already benefiting?
Thanks to the biopharma company Abbvie, patients in Precision Promise who are identified as having pancreatic enzyme insufficiency have access to free pancreatic enzyme supplements while they're in the study.
Pancreatic enzyme replacement therapy can be critical to patients' quality of life, but enzymes can be very expensive, many insurance companies cover only a small portion of the cost, and unfortunately, there are still many patients who aren't aware of the benefits of pancreatic enzymes.
Contact PanCAN Patient Services
for more information about clinical trials that may be right for you, including Precision Promise, as well as other disease-related topics such as pancreatic enzymes, diet and nutrition, how to find a specialist and more.
Additionally, patients are benefiting from best practices in pain management – which is about comfort, quality of life and well-being. Last year, our Precision Promise Supportive Care Committee published a paper in The Oncologist that outlined the management of pancreatic cancer-associated pain.
Importantly, these are establishing best practices that will benefit patients treated outside of Precision Promise, too.
PanCAN donors are making PanCAN Precision Promise possible. What is your message to them?
Our donors are the most committed, generous and passionate and share our vision of creating a world where all pancreatic cancer patients thrive. Precision Promise is one initiative that is going to get us there, our Early Detection Initiative is another, and our Research Grants Program is yet another. Not to mention all of our other scientific and clinical initiatives and resources for patients, from PanCAN Patient Services, to our Know Your Tumor® precision medicine service, Clinical Trial Finder and Patient Registry.
I am so grateful for your gifts to PanCAN because they truly are changing patients' lives. Thank you!
Give today
to advance progress in pancreatic cancer research.