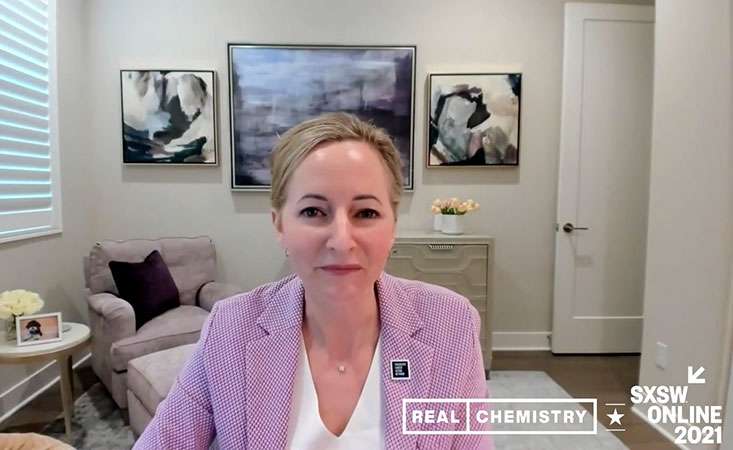 In conjunction with SXSW Online 2021, PanCAN President and CEO Julie Fleshman, JD, MBA, joined Real Chemistry's Healthcare Media Lounge on March 18 for a conversation about clinical trial innovation, PanCAN's resources and programs, and the progress we've seen in the field.
The Healthcare Media Lounge was a two-day virtual event inviting dozens of healthcare leaders to discuss a variety of topics focusing on the digital transformation in healthcare and health equity, including:
Culture Care: Addressing Disease Stigma and Bias Through Culture
Clinical Trial Diversity in Recruitment/Identification
The Dynamics of Increasing Vaccine Confidence in the US and Around the World, and more
Moderator April Lewis, EVP & General Manager of Hū introduced Fleshman, describing her passion for the patient and her success in amplifying the patient voice in pancreatic cancer research.
"I think patient advocates are bought in too late in the game," said Fleshman. "We can play a critical role through the entire journey in thinking about the scientific research, the basic science, what things make sense to move into the clinic for patients and then the development of clinical trials and helping to make sure the patients know about the clinical trial so they can enroll in it."
Fleshman talked about the need to meet patients where they are in their journey, and PanCAN's role in breaking down barriers to pancreatic cancer clinical trials and treatment options, including Precision PromiseSM, PanCAN's adaptive clinical trial.
Fleshman explained that Precision Promise offers an opportunity to de-risk the drug development process for the pharmaceutical industry by costing less, requiring fewer patients, taking less time and why that is important in developing new treatments for pancreatic cancer. PanCAN initially launched Precision Promise with 15 sites but plans to add five more to increase access to and diversity in enrollment.
Fleshman also spoke about the importance of collaboration between patient advocacy groups and industry.
"Because we're the unbiased stakeholder, we have the ability to accelerate progress much faster than potentially an individual institution, the government or a pharmaceutical company can do," said Fleshman in closing. "We can bring all those stakeholders together to make it happen faster. I'm excited about the opportunities that we have and we certainly need stakeholders to step up and stand at our side to make these things successful."
Watch Fleshman's discussion here.

Through your support
, transformative initiatives like Precision Promise drive our vision of creating a world in which all pancreatic cancer patients will thrive.