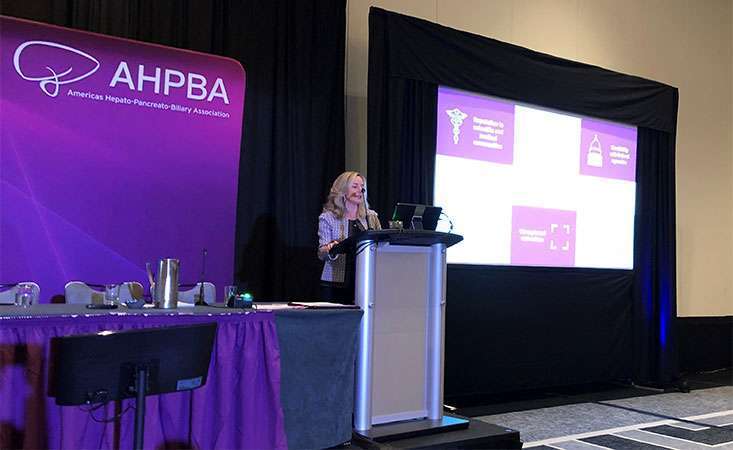 Last week, Pancreatic Cancer Action Network (PanCAN) president and CEO, Julie Fleshman, JD, MBA gave the presidential invited lecture at the Americas Hepato-Pancreato-Biliary Association (AHPBA) Annual Meeting. Following tradition, this honor to educate and engage attendees is given to someone who inspires the current AHPBA president.
In her lecture, Fleshman described PanCAN's vision, its Patient Services program as well as some of the  organization's clinical initiatives, like the Know Your Tumor® precision medicine service. Fleshman explained how PanCAN partners with healthcare professionals to help improve patient outcomes. Fleshman also participated on a Patient Advocacy panel with other patient advocates from HPB disease organizations.
During another talk, "The Patient Perspective to Cancer Care: Aligning Physician Expectations with Patients' Wishes," cholangiocarcinoma survivor, Melinda Bachini, presented patient survey data from PanCAN and the Cholangiocarcinoma Foundation. Data from 1,101 patients with either pancreatic cancer or cholangiocarcinoma showed that:
95 percent would be willing to try an experimental treatment
84 percent felt quality of life was more important than quantity of life
80 percent would be willing to enroll in a clinical trial, even if it was high-risk
66 percent preferred to have their doctor take risks with their treatment plan
30 percent would be willing to undergo surgery even if there was significant risk of death
20 percent would choose surgery if it extended their life for less than one year
A record-breaking 1,000 attendees attended the 2019 AHPBA Annual Meeting. The AHPBA is an incorporated nonprofit organization created with a vision of devoting itself to relieving the human suffering caused by HPB disorders throughout the world by improving education, training, innovation, research and patient care.
Contact Patient Services
for tips and resources about formulating a treatment plan and ensuring good communication with your healthcare team.