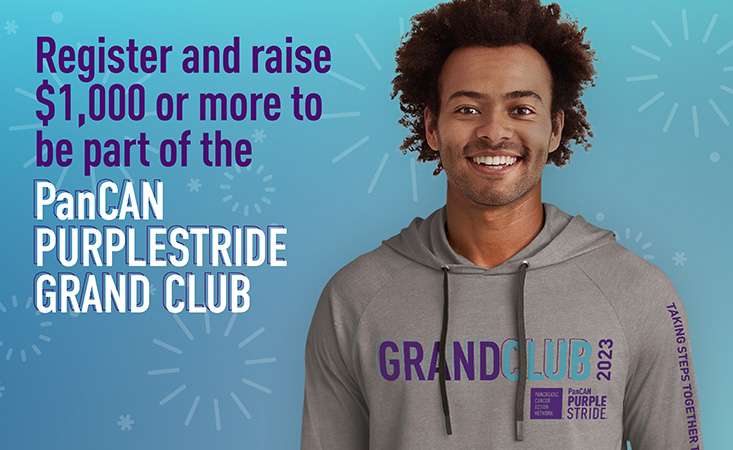 PanCAN PurpleStride, happening on Saturday, April 29, 2023, is the ultimate walk to end pancreatic cancer. Why? Because it's the number one way PanCAN raises money to fund critical research and programs so pancreatic cancer patients and their families will thrive.
Every dollar you raise makes a difference. To make the biggest impact, challenge yourself to become a PanCAN PurpleStride Grand Club member and raise $1,000 or more for your PurpleStride event.
The goal of raising $1,000 may seem intimidating, but we have all the tools you need to help you get there.
PanCAN loves having the extra opportunity to show our gratitude for your efforts, and as a Grand Club member, you'll receive access to special celebrations and an exclusive gift as a token of our appreciation.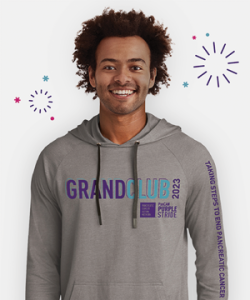 This year, that exclusive gift is this official PanCAN PurpleStride 2023 Grand Club hooded sweatshirt.
Want to wear it on event day? Make sure to hit your $1,000+ goal at least a month ahead of April 29 to allow time for shipping. And then continue to raise PanCAN awareness by wearing it whenever you're out running errands or traveling. The most important thing about earning and wearing this sweatshirt is the meaning behind it – that you are dedicated to ending pancreatic cancer.
The money you raise goes to advance scientific research, including early detection initiatives and new treatment approaches. In fact, raising $1,000 can support one of our research grantees' work for 7 weeks! That's tangible impact that could lead to major breakthroughs in the pancreatic cancer community.
We've made fundraising easy. Once you register, check out your PanCAN PurpleStride Dashboard. Your Dashboard allows you to customize your personal fundraising page by uploading a photo and adding your personal story, telling friends and family why you are supporting the fight against pancreatic cancer. You can also connect to Facebook Fundraiser, edit your fundraising goal, customize and send pre-written messages asking for donations and thanking your donors, track your fundraising progress, unlock achievement badges, find our mobile app and more.
And if you haven't registered for PanCAN PurpleStride yet, go now! Click that button right under this paragraph and register for the PanCAN PurpleStride in your area or for PanCAN PurpleStride USA and participate from wherever you are and however you'd like!