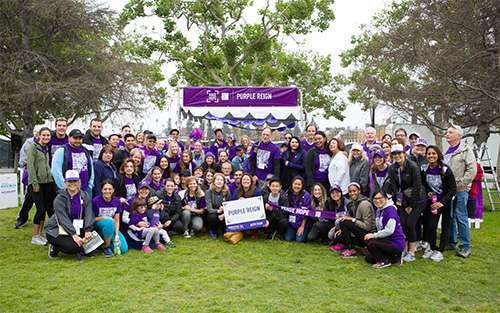 Sets a Fundraising Record with its Purple Reign Team for PurpleStride Los Angeles 2017
The staff at the Pancreatic Cancer Action Network's Los Angeles office put the "fun" in fundraising leading up to PurpleStride Los Angeles over the weekend, and as a result, they raised nearly $55,000 to help the organization double pancreatic cancer survival by 2020.
The dollars raised rocketed the PanCAN team, Purple Reign, into the second-highest fundraising team at Purple Stride LA this year, behind the Cedars-Sinai Whipplers, who raised more than $80,000!
A March Madness Challenge, lemonade stand, bake sale and Sparkle Spirit Week were among the creative ways staff members raised the fundraising bar this year. The team goal was originally set at $40,000, and when the goal was reached a week before PurpleStride LA, staff team captains upped the goal to $45,000. To date, that goal has been bested by nearly $10,000 (which was raised in just one week!).
During the March Madness Challenge, departments faced off against each other and vied for rights to brag about everything from how many staff members they got to join the team to how many friends and family they recruited outside of the office and who fundraised the most. The winning departments were Scientific & Medical Affairs and PanCAN Patient Services.
Purple Reign was 258 people strong. The top individual fundraiser was Alexandra Weiss, strategic partnerships manager with PanCAN, at $6,200.
"I'm inspired to raise funds for families touched by cancer," Weiss said. "It's personal for me and I continue to do so in memory of my mom. When you share your story and see that friends and family want to support you – it's intoxicating. When those first few donations roll in, you want to tell more and more people. Emailing, social media, and mentioning it while out and about is such an easy way to create awareness for the disease and the organization."
Weiss' top fundraising tips?
Make it personal by sharing your story
Don't be afraid to tell people why this cause matters to you and the impact they can have, too
Personalize your page, thank people…and increase that goal every time you reach it!
PanCAN staffer Katie Hurley served as a co-captain for Purple Reign. She said that, in parallel to PanCAN's philosophy of always going the extra mile to achieve its goals, Purple Reign team members were motivated to push their boundaries and get outside their comfort zone with regard to fundraising.
"We all saw how much we could accomplish in such a short time, and we were motivated to keep up the momentum because we are always inspired by the patients and families we serve. Everything we do, we do for them."
PanCAN President and CEO Julie Fleshman was proud of the staff's accomplishments, tweeting, "@PanCAN staff raised $54K for #purplestrideLA. Amazing! I am so proud to work with these passionate and dedicated individuals. #WageHope
Each year, more than 80,000 people in cities across the U.S. Wage Hope at PurpleStride, the walk to end pancreatic cancer. Funds raised through this signature event support such services as Precision Promise, Know Your Tumor® and the Patient Registry.
Check out PurpleStride fundraising tips, and make your own impact leading up to your community's walk to end pancreatic cancer!