We are excited to announce last year's "Wage Hope Together" campaign for Pancreatic Cancer Awareness Month has been named Best Multichannel Campaign of the Year by PR Daily! Additionally, the campaign received an honorable mention nod for Digital PR Campaign of the Year.
"In an effort to raise the profile of Pancreatic Cancer Awareness Month, the Pancreatic Cancer Action Network (PanCAN) planned strategies for multiple channels," the announcement read. "Its successful efforts have won it first place in the "Multichannel Campaign" category of PR Daily's 2017 Digital PR & Social Media Awards."
Pancreatic Cancer Awareness Month is our opportunity to put a national spotlight on the nation's toughest cancer. What makes it so successful is our nationwide grassroots army that has inspired over one million people to take action in the fight against pancreatic cancer.
Our volunteers spend countless hours securing proclamations, engaging with their local media personalities and turning buildings purple for the month of November to elevate awareness for pancreatic cancer. This award is a testament to our volunteers' dedication to improve patient outcomes and to double survival by 2020.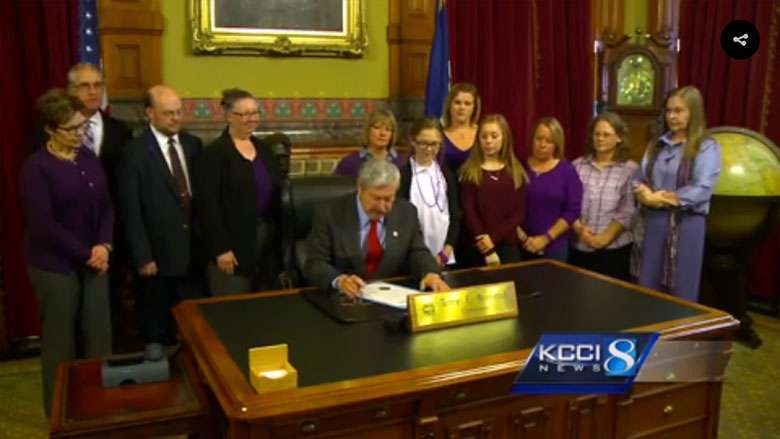 The Des Moines Affiliate watches on during the ceremonial proclamation signing
Thank you to our amazing volunteers who made this award possible. We couldn't have done it without you!
To read the full announcement CLICK HERE and stay up to date with PanCAN news by visiting pancan.org/blog.