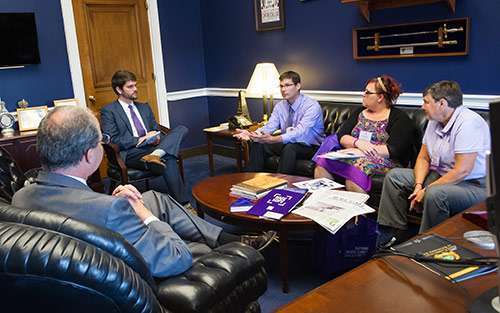 Last year, Congress provided the first significant increase in funding for the National Institutes of Health (NIH) in more than a decade.
Now is the time to build on that momentum by urging Congress to continue making medical research a national priority by providing robust, sustained and predictable funding increases for the NIH in 2017 and beyond.
On Sept. 22, the Pancreatic Cancer Action Network, along with more than 125 research advocacy organizations, will rally for increased funding for medical research on Capitol Hill as part of the Rally for Medical Research initiative.
Launched in 2013, the Rally for Medical Research initiative brings together the entire medical research community for one day of advocacy action to ask Congress to make the NIH a national priority. Through the annual Hill Day event, the Rally for Medical Research continues to raise awareness about the critical need for an increased investment in the NIH to improve health, spur progress, inspire hope, and save more lives.
Joining the effort this year are five researchers and long-time supporters of our organization, including David Cheresh, PhD (UCSD), Adrienne Cox, PhD (UNC), Channing Der, PhD (UNC), who also serves as a member of our Scientific and Medical Advisory Board, Janet Murphy, MD, MPH (Harvard) and Rushika Perera, PhD (UCSF). Our vice president of Government Affairs & Advocacy, Megan Gordon Don, will also provide message training to the 350 Rally participants who will go to Capitol Hill tomorrow.
Do your part to support the Rally for Medical Research initiative by urging Congress to increase cancer research funding.