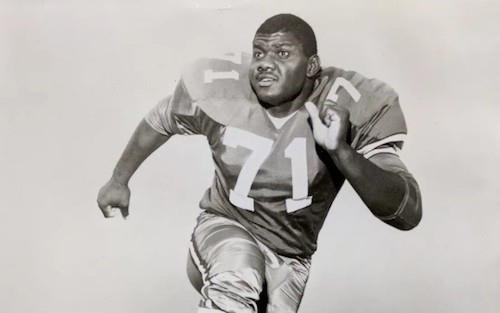 Yesterday, The Dallas Morning News confirmed that former Dallas Cowboys defensive end Willie Townes succumbed to pancreatic cancer just one day after his 74th birthday. Townes played with the Cowboys organization from 1966-1969 and finished his NFL career with the New Orleans Saints in 1970.
Pancreatic cancer is no stranger to the Cowboys Nation. Heisman Trophy winner and former quarterback Roger Staubach lost his mother to the disease in 1973. Harvey Martin, also a former defensive end, passed away from the disease at age 51 in 2001. Former Dallas Cowboys cheerleader, Jacie Scott, lost her mother to the disease in 2009. Scott recently joined our Influencers of Hope network to help amplify our mission.
Just last year, Suzanne Mitchell, former director of the Dallas Cowboys Cheerleaders, died after a three-year battle with pancreatic cancer. In 2014, Mitchell shared her  inspirational story at PurpleStride Dallas-Fort Worth as a survivor speaker.
Townes joins a growing list of notable sports figures who've passed away from the world's toughest cancer including 1987 Pro Football Hall of Fame inductee Gene Upshaw.
This devastating disease also claimed the life of Mickey Rivera, brother of Carolina Panthers Head Coach Ron Rivera.
Other well-known football players impacted by the disease include former Detroit Lions wide receiver Calvin "Megatron" Johnson, Jr., Tampa Bay Buccaneers wide receiver DeSean Jackson, Philadelphia Eagles safety Rodney McCleod and newly-drafted Seattle Seahawks linebacker Otha Peters.
Pancreatic cancer remains the third leading cause of cancer-related death in the U.S. and has a five-year survival rate of just 9 percent.  PanCAN is the only organization attacking pancreatic cancer on all fronts through research, clinical initiatives, patient services and advocacy.
Help us reach our goal to double survival by 2020 by donating today.