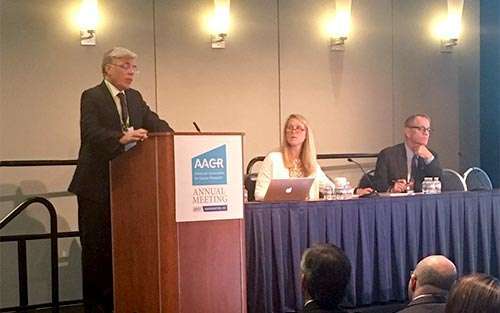 Last week, nearly 22,000 cancer researchers from around the world gathered in Washington, D.C., for the largest-ever American Association for Cancer Research (AACR) Annual Meeting.
The entire #AACR17 Opening Ceremony standing in unity for #NIH funding #cancerresearch @AACR pic.twitter.com/ME5cGVrW5L

— Rick Buck (@Rick__Buck) April 2, 2017
And the Pancreatic Cancer Action Network was in the thick of it all – showcasing the innovative pancreatic cancer research we've funded, engaging in important cross-disciplinary discussions, learning from others and celebrating our newest grantees who were announced at the meeting.
The resounding themes over the course of the intense five-day meeting included teamwork, early detection, immunotherapy, prevention, precision medicine and patient-centered research.
"The energy at this year's AACR Annual Meeting was phenomenal," said Lynn Matrisian, PhD, MBA, chief science officer for the Pancreatic Cancer Action Network and also a past president of AACR and a Fellow of the prestigious AACR Academy. "Everyone was united in celebrating the field's advancements, protecting National Institutes of Health funding for biomedical research and improving the lives of people diagnosed with all types of cancer."
Congratulations to @PanCAN's @LynnMatrisian! Honored tonight as a Fellow of @AACR Academy! #AACR17 #WageHope #pancreaticcancer pic.twitter.com/pOfm4WRm84

— Julie Fleshman (@JulieFleshman) March 31, 2017
Pancreatic cancer – the major cancer with the lowest five-year survival rate at just 9 percent – was highlighted several times throughout the meeting.
Our Grantee Discussion and Poster Session garnered a huge crowd to hear from seven principal investigators of our prestigious $1 million Research Acceleration Network (RAN) grants and three early-career grantees who recently received $600,000 Pathway to Leadership awards.
"I was so impressed by the caliber of research presented and the dynamic discussion that ensued," Matrisian said. "Sharing data and receiving feedback, guidance and opportunities for collaboration are the backbones for our 'Community for Progress' of researchers dedicated to working together to improve outcomes for pancreatic cancer patients."
Great turnout @PanCAN @AACR Grantee Discussion #AACR17 #wagehope #PancreaticCancer pic.twitter.com/zCuHvXHOAW

— Lola Rahib (@LolaRahib) April 3, 2017
Another noteworthy pancreatic cancer-related session was titled, "Unsolved Mysteries: Why Is Pancreatic Cancer So Difficult to Treat?," and featured members of our Scientific & Medical Advisory Board and emeritus board. The takeaway was that there are many unique biological and clinical features that make pancreatic cancer so challenging – including late diagnosis, genetic complexity and resistance to conventional therapy.
However, we now know more about the disease than ever before – as evidenced by exciting work presented by our grantees like Bob Vonderheide, describing a novel immunotherapeutic approach, Giulio Draetta, who reported on a potential new target for therapy, Erica Carpenter, who presented work on circulating tumor cells as an early detection method, and many others whose projects were featured at this prestigious meeting.
"In addition to the pancreatic cancer-focused presentations, there was a great deal of fantastic science shared about other cancer types that could offer critical insights to pancreatic cancer research," added Matrisian.
Another highlight of the meeting was the powerful keynote speech delivered by former Vice President Joe Biden who commended cancer researchers as a "national treasure" and asserted that we cannot stop the momentum taking place in cancer labs across the country.
"Our work is nowhere near done," @joebiden tells audience at #aacr17. "Let's keep is going, folks. This is no time to stop the momentum." pic.twitter.com/4yHKWgDOI0

— National Cancer Inst (@theNCI) April 3, 2017
"We are all so moved and encouraged by Mr. Biden's personal passion and commitment to the importance of federal biomedical research funding and the need for scientists and Americans to use our voices to ensure that Congress and the President do not cut this funding," commented Julie Fleshman, JD, MBA, president and CEO of the Pancreatic Cancer Action Network. "His speech also emphasized the importance of precision medicine and clinical trial enrollment, key objectives that align with our strategic priorities and clinical initiatives.
"I always leave meetings like this energized and inspired by the enormous global team of dedicated scientists and researchers working to fight cancer and benefit patients," Fleshman continued.
"I am more confident than ever that we are part of a relentless international movement and that we're on the right track to double pancreatic cancer survival by 2020."
Learn more about the grantees highlighted in our Discussion and Poster Session and the newest Pancreatic Cancer Action Network early-career grant recipients announced at the meeting.