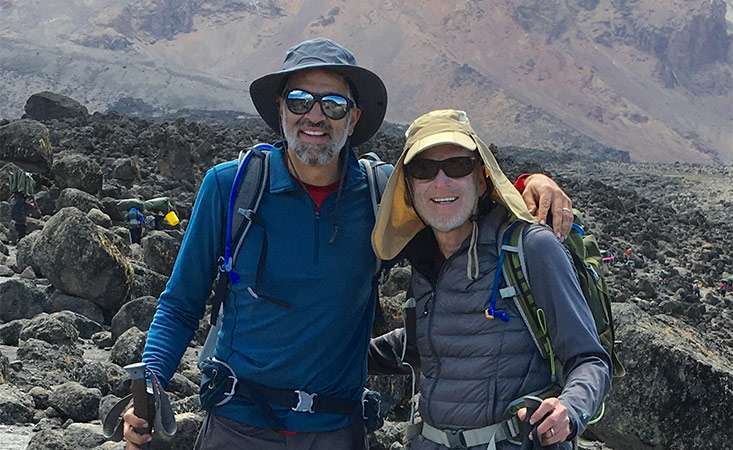 Ken Brown, a 68-year-old attorney from Highland Park, Illinois, had to permanently put his dreams of climbing Mt. Kilimanjaro on hold when he was diagnosed with pancreatic cancer in 2013.
That changed when his physician, Malcolm Bilimoria, MD, explained his summer plan to scale the tallest peak in Tanzania, to which Brown said, "Malcolm, you can't go without me, that's my dream." Without missing a beat Bilimoria replied, "come with us!"
Brown had previously supported PanCAN on behalf of his clients affected by the disease, however, he never assumed he would be in a similar situation. Brown's health became a cause for concern after he began experiencing symptoms of itchiness and dark-colored urine, which led him to schedule an endoscopy.
On Sept. 26, 2013, the results found a tumor at the head of his pancreas. Brown's cancer was caught at stage II, with no lymph node involvement, which made him a successful candidate for the Whipple procedure to remove the tip of the pancreas, the gallbladder and part of the intestines.
"I believed from the day I was diagnosed that I was going to get cured," said Brown. "I didn't think I would let this disease stop me."
Brown's infectious attitude and endless optimism are qualities that exude from his personality and helped him navigate through this tough time with his head above water.
"It's important to have an attitude that you're not going to let cancer defeat you. It's not going to define who you are," said Brown.
Doctors decided to go through with chemotherapy to reduce the size of the tumor before surgery. After two months of chemotherapy, the Whipple surgery was successfully conducted by Bilimoria, a resident of Northwest Community Hospital.
"I firmly believe research is such a critical part in improving early detection and to be able to help find a cure for this disease," said Brown. "Also, having more treatment options and having skilled doctors who know what they're doing will help to increase the rate of survival."
Though the surgery was successful, Brown's goal of climbing Mt. Kilimanjaro was gone. His age and health condition caused the optimistic Brown to second-guess the possibility of accomplishing such an enormous feat. Remembering how his cardiologist discouraged the thought of climbing the mountain a few years prior added to his doubt.
After explaining his plan, his cardiologist put down his pen, looked at Brown and said, "Are you nuts, Ken? Think about the name of the place: 'Kill a man jaro.'"
Brown's dream of climbing Mt. Kilimanjaro began on a family trip to Tanzania in 2011. On the way to the airport, their taxi driver pulled to the side of the road to catch a rare glimpse of Mt. Kilimanjaro. The clouds descended and the sun was shining on the mountaintop. It was then that Brown proclaimed to the taxi driver that he would return one day to scale the mountain with his sons.
It wasn't until April 2017, after returning to Bilimoria's office for his routine six-month scan, that his surgeon shared his plans to climb the 19,000-foot mountain with a number of colleagues. Brown was initially reluctant to join his physician in fear that Bilimoria would not complete the climb if Brown's health deteriorated during the six and a half-day trek.
After receiving support from family, friends and colleagues, Brown agreed to capitalize on the once in a lifetime opportunity. He trained for four months by walking on a treadmill while carrying a 20-pound backpack.
When the group arrived in Tanzania, Brown became overcome with emotions as he walked down the tarmac. "It was the realization that I could still do something I wanted to do, something I thought I never could do," he said.
The group began to scale the mountain on Oct. 1. Due to heart palpitations, Brown had to cut his climb short where the elevation rose from 15,000 to 19,000 feet. However, the inability to make it all the way to the summit didn't rain on Brown's parade.
"It was one of the greatest experiences of my life," said Brown. "I told people the sorest muscle on my body were my cheeks from smiling."
Brown's health conditions forced him to head back on the sixth day of the climb. Bilimoria continued to the top, and to show his admiration for Brown's courage, retrieved a rock from the summit and presented it to Brown as a souvenir.
Missing out on the chance to reach the summit of Mt. Kilimanjaro isn't something Brown regrets. He says, "I have climbed the highest mountain anyone could possibly climb, and that mountain was beating pancreatic cancer, so far."
Four years after his initial diagnosis Brown's health is far from perfect, however, his spirits remain far from pessimistic.
"In terms of pancreatic cancer, no signs of that coming back," said Brown. "Do I have severe gastro problems? Yes. Do I have neuropathy? Yes. None of that interferes with my ability to do things. I'm in the best shape of my life."
Today, Brown continues to work at the law firm that he owns with his wife and already has his eyes set on the next adventure. "Next, I'm going to New Zealand with my wife to do some hiking over there," Brown said.
Brown preaches the importance of pancreatic cancer patients setting goals. He understands climbing a mountain may not be plausible for everyone, however, every goal accomplished can be held to a similar scale.
"Sometimes people wake up in the morning and don't feel good enough to get out of bed," said Brown. "If that person gets up that morning and spends the day doing something, then they've climbed a mountain equally as high as Mt. Kilimanjaro. That's their mountain they've climbed and they should be proud of that."
PanCAN is committed to fighting the world's toughest cancer and is the only organization attacking pancreatic cancer on all fronts: research, clinical initiatives, patient services and advocacy.
If you or someone you know has been affected by pancreatic cancer, please contact PanCAN Patient Services for information, resources and hope.