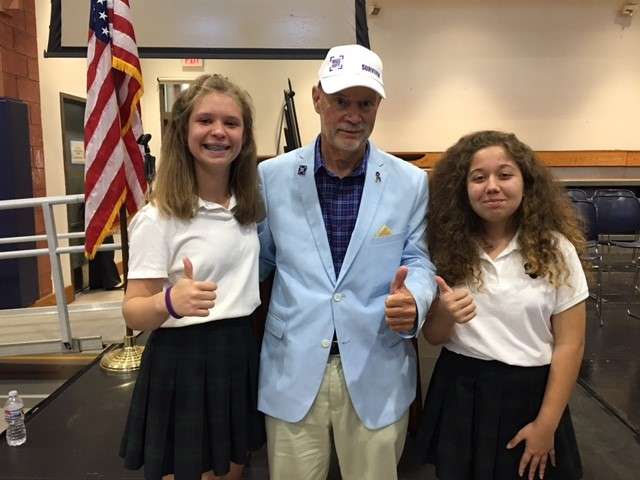 Every year, Mayfield Junior School in Pasadena, Calif., showcases its students' philanthropic efforts at the annual "Reach Out Assembly," where students present a check to their charities of choice.
PanCAN was selected as one of the charities of choice by the entire school thanks to eighth graders Natalie Watson and Elisa DeFoe.
Watson lost her father, Corey, to pancreatic cancer in February 2016, almost two years after his initial diagnosis. DeFoe lost her grandfather to the disease just six months after diagnosis in September 2013.
"My dad was diagnosed with stage IV pancreatic cancer at age 46," said Watson. "I chose to fundraise on behalf of the Pancreatic Cancer Action Network because it is important to me, and my family believes in the organization's work."
Thanks to their efforts, Watson and DeFoe raised $1,000 for PanCAN.
Larry Clark, Mayor (ret.) of Rancho Palos Verde and Ambassador Circle member of PanCAN and Rick Leonard, MBA, chief gift officer at PanCAN, accepted the donation on behalf of the organization.
Clark, who is a four-year pancreatic cancer survivor and a friend to the Watson family, shared gratitude and hopeful remarks to the student assembly.
"To all of you students: Someday, some of you are going to be doctors and research scientists," said Clark, who has overcome nine recurrences since his stage IV diagnosis in 2013. "And some of you will probably help advance the treatment of cancer, and hopefully pancreatic cancer."
Pancreatic cancer remains the world's toughest cancer, claiming the lives of 91 percent of its victims within five years.
The Pancreatic Cancer Action Network is the only organization attacking the disease on all fronts through research, clinical initiatives, patient services and advocacy.
Join Natalie and Elisa's inspiring efforts to help us reach our urgent goal to double survival by 2020 by donating today.
Watch the video of the full presentation.