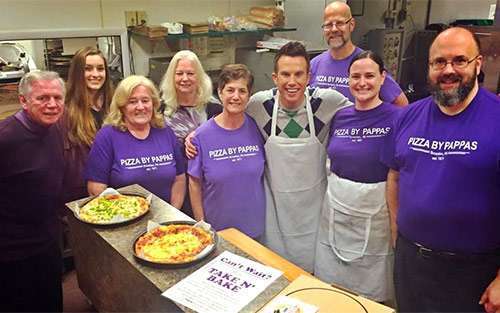 Who knew you could Wage Hope by making (and eating) pizza? Bill Sheakoski and his brother, Tom, of Scranton, Penn., have the perfect recipe to do just that.
Their dad, Chester Sheakoski, opened Pizza by Pappas in 1971 and has since captured the hearts and appetites of people throughout the community. Bill and Tom had an idea in 2009 to have a pizza fundraiser so that they could give back to their community.
When trying to figure out what cause Pappas would champion, a chance phone call gave them their answer.
"I had wanted to connect with an important cause," Bill said. "I guess it would be fate that the same week that I approached my brother Tom about this idea, I received a call from Teresa Grabowski."
Teresa, a Community Engagement Chair for the Northeastern Pennsylvania Affiliate of volunteers, lost her husband to pancreatic cancer and wanted to raise awareness for this disease. Her husband had loved Pappas and so she was wondering if they'd be willing to host a fundraiser.
Bill learned just how devastating pancreatic cancer was and how research for the disease was extremely underfunded. He knew he had to use the power of pizza to make something happen for Teresa.
He decided to offer customers a coupon, but he was only able to raise $232.
"I was a little disappointed that we didn't raise more," Bill said, "but when I told Teresa and her daughter, Taryn, how much we raised, they were thrilled! They were thankful that someone took the step to help raise awareness for the disease. I was inspired by their positivity and wanted to make the event bigger the next go-round."
One year later, Bill held another fundraiser benefiting the Pancreatic Cancer Action Network. This time, Bill wanted to make the event accessible to as many people as possible and make it easy for the volunteers in the Northeastern Pennsylvania Affiliate to connect with the public.
"All you had to do was buy pizza!" Bill said.
"We donated 50 percent of the sales during two days in November, which is Pancreatic Cancer Awareness Month. Individuals as well as businesses came in to support the cause and buy pizza. Every pizza counts!"
The event created a strong sense of goodwill and community.
"One time, a gentleman came in during the fundraiser and started a conversation," Bill said. "He was a pancreatic cancer survivor and had seen the fundraiser on the news. He drove 45 minutes to show his support. Only needing one pizza, he offered to pay for some of the people in line waiting to place their order. I told him I didn't mind, but he may find that most of the people in line also were here to give their support by purchasing pizza. He understood and instead insisted on buying eight more pizzas for the staff to enjoy for lunch."
The man's generosity didn't stop there.
He ended up spending hours at the event talking with volunteers and at the end, added another $200 to the donation jar.
"People need to feel a sense of community. That man's enthusiasm for the event, open heart and generosity will always be one of my fondest fundraiser memories."
For the past three years, the event has functioned as a wrap-around event which raises funds specifically for PurpleStride. Bill stresses the importance of wrap-around events because they ensure the success of PurpleStride as well as create awareness and opportunities for engagement.
"Wrap-around events keep the message alive throughout the year because PurpleStride is only one day. The monetary success can't be denied, but awareness keeps the importance of the cause top of mind," Bill said.
Three years later, after that initial phone call from Teresa, a member of Bill's extended family got diagnosed with pancreatic cancer. The significance of the Pizza by Pappas event became more evident.
"My sister's brother-in-law passed away from the disease after a one-year battle," Bill said. "It goes to show that even if you don't have a connection now, unfortunately, that probably won't remain true. This is everybody's fight."
Pizza by Pappas is a presenting sponsor at PurpleStride Northeastern Pennsylvania. They've been dedicated champions to the cause and since the inception of this event, have raised thousands of dollars for the organization. The dates for the 2016 event will be held on Nov.15-16.
"We've created an event that truly does give back," Bill said.  "My parents, Chester and Elsie Sheakoski, are proud to see what the restaurant they started over 45 years ago has been able to achieve."
Do you want to host a fundraiser on your own? Anything goes -- check out our new Wage Hope My Way DIY fundraising option, or create a team for your local PurpleStride.