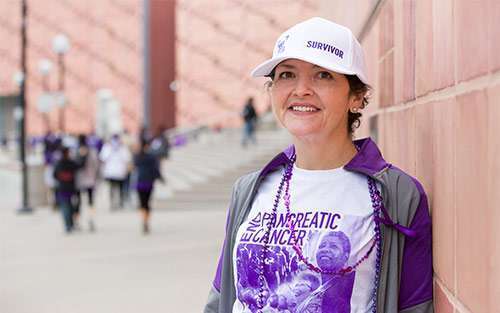 When someone is diagnosed with cancer, battle metaphors often prevail – He is such a fighter! She will win this battle! – but how do a positive attitude and emotional strength actually affect a patient's outcome?
"When you're positive and have a positive outlook, it doesn't mean you're going to beat pancreatic cancer," said Andrew Hendifar, MD, MPH, medical oncology lead for the Gastrointestinal Disease Research Group at Cedars-Sinai Medical Center and co-director of Pancreas Oncology. "But it means you won't let something bad in your life make you negative or take away from the good in your life."
Hendifar, who chairs the supportive care committee and is a principal investigator of a Clinical Trial Consortium site for Precision PromiseSM, continued: "Use it as an opportunity to reflect, to enhance, to do what's important, to get closer to loved ones."
According to the American Cancer Society, there have been mixed findings about whether positive attitude and depletion of stress and anxiety have an impact on a patient's cancer outcome.
But Hendifar points out that feeling better and feeling at peace with the situation can lead to improved relationships between patients and their caregivers and medical professionals – and that can lead to better decision making.
"Being positive is not being naïve – it means taking a difficult situation and doing the best you can," Hendifar added. "In life, there are always things that happen that are very challenging. What gives us our humanity and what makes people special is the ability to accept and support each other through various circumstances.
"No one should have to suffer alone."
Support for the pancreatic cancer patient is critical to improve quality of life and overall well-being. Having a support system of caregivers, family, friends, healthcare professionals and a PanCAN Patient Services Case Manager is important to address and manage the needs of the patient.
Contact PanCAN Patient Services for resources about patient support and other information and services for those impacted by a pancreatic cancer diagnosis.
If you're interested in learning more about this topic, please watch our free recorded Hope & Healing: Lessons from the Oncology Front Lines webinar, featuring Kevin Billingsley, MD, FACS and Susan Hedlund, LCSW from Oregon Health & Science University.