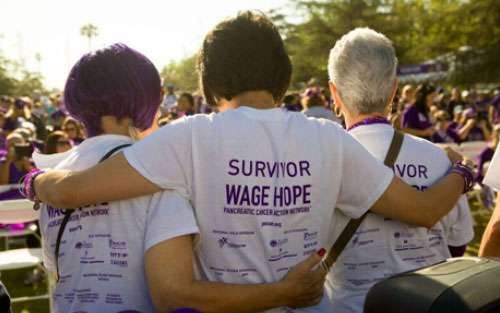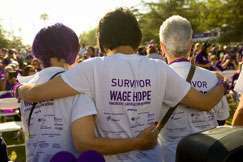 As we head into the heart of the Spring PurpleStride season, guest contributor and Media Relations Chair of the Raleigh/Durham Affiliate, Leslie Crawford, explains why PurpleStride is so important, and how it differs from other 5K fundraising events.
August 22, 2007, is a day I will never forget. I was heading out the door on my way to orientation for my senior year of high school when I found my dad hunched over on the kitchen floor. In a panic, I immediately called "911" and rode with him in the ambulance to the hospital. He had been complaining about nagging back pain for several months, and had visited doctors on several occasions trying to figure out the cause, but to no avail. He and his doctors were not overly concerned; back pain is fairly normal for a 57 year old, after all. After weeks in the hospital, countless tests, and several second opinions, it was determined that my dad had stage four pancreatic cancer.
None of us understood the gravity of the situation, but over the next few days, it began to sink in.
Despite the agony of the cancer, my dad tried to stay positive and spent as much time with family and friends as possible. I will never forget his spirit throughout that excruciating time. I distinctly remember him saying to me, "In the end, I hope I give more than I take."
On December 17, 2007, just four short months after that fateful ambulance ride, I lost my dad to pancreatic cancer. He fought hard, but like too many patients of this awful disease, the fight was cut short.
For me, PurpleStride functions as a support group as much as it does a fundraising event. PurpleStride is a celebration of hope that brings together the community and those who have been touched by pancreatic cancer, reminding us all that we are not alone. I'm devoted to this fight in memory of my dad, and in solidarity with the countless people across the country who have been touched by pancreatic cancer. If all of my time, money, and efforts can prevent even one person from going through what my father and family went through, then I consider it to be well worth it. In the end, I hope I give more than I take.
I urge families and friends of those who have been touched by pancreatic cancer to get involved and raise their voice by attending PurpleStride, because far too many patients no longer have a voice to raise of their own.