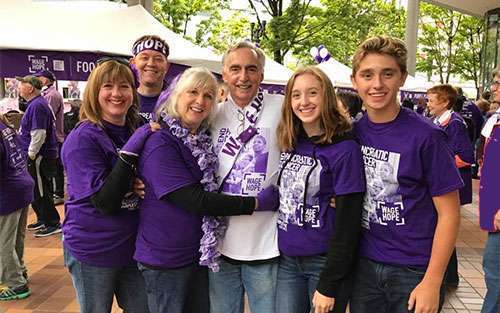 Nearly 5,000 'purple people' took the spotlight over the Sept. 23-24 weekend at PurpleStride, the walk to end pancreatic cancer. Iowa and Portland hosted their walks on Saturday, while St. Louis hosted its walk on Sunday. The 5K events are estimated to collectively raise more than $500,000 to help the Pancreatic Cancer Action Network double pancreatic cancer survival by 2020.
PurpleStride St. Louis 2017, presented by Have a Skate with Bob Foundation, welcomed approximately 2,100 people in Forest Park to celebrate friends and loved ones affected by pancreatic cancer. Their total fundraising efforts is estimated to reach around $270,000.
In Portland, more than 1,000 individuals came together at the World Trade Center to Wage Hope for pancreatic cancer patients and their families. Noel Lee, PanCAN Portland Affiliate Chair, spoke on KATU 2 On Your Side to promote the event and to discuss symptoms of the disease as well as the resources PanCAN provides for patients. PurpleStride Portland raised approximately $164,000 as of the event day.
PurpleStride Iowa saw a crowd of 1,000 at Raccoon River Park, who turned out in their full-on purple gear to raise awareness about the disease. Last week, Melinda Thach, Media Relations Chair of the PanCAN Des Moines Affiliate, sat down with ABC affiliate Local 5 to talk about PurpleStride Iowa and address symptoms about the disease. Emceed by Good Morning Iowa anchor Sabrina Ahmed, PurpleStride Iowa raised $120,000 for the cause.
Thank you to everyone who came out to each of the walks, and for those who donated and fundraised to fight the world's toughest cancer. Proceeds from this signature event support groundbreaking patient services including Precision Promise, Know Your TumorSM and the Patient Registry.
You can still donate to your local PurpleStride in honor of loved ones affected by pancreatic cancer. Visit purplestride.org today.