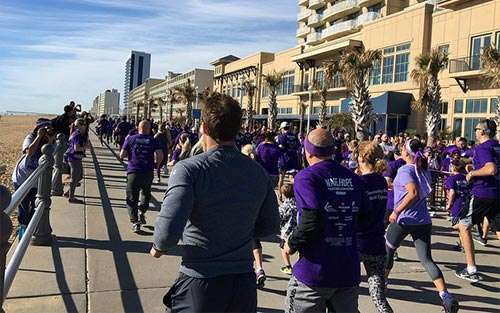 PurpleStride Tidewater was back in action and better than ever this weekend! More than 700 striders flocked to Neptune's Park on Sunday to Wage Hope at PurpleStride, the walk to end pancreatic cancer.
Our passionate purple supporters raised more than $120,000 in the weeks leading up to the walk—and we estimate that event-day donations pushed their total to more than $128,000. Jenn Murphy, team captain for On the Go for MOE and a passionate volunteer, shattered PurpleStride Tidewater's all-time record for most funds raised by a single team, with more than $16,000 raised! Jenn strides in support of her mom, Moe Parker.
Funds raised at PurpleStride Tidewater Presented by the Alan B. Nusbaum Family and Capital Group support vital pancreatic cancer research and patient services.
We were proud to have Emmy-award winning reporter and anchor Chris Reckling from WAVY and FOX 43 as PurpleStride Tidewater's official emcee. Thanks again to our generous sponsors, and all the striders who made it out to the Virginia Beach waterfront for this amazing event!
Check out some photos from the event: