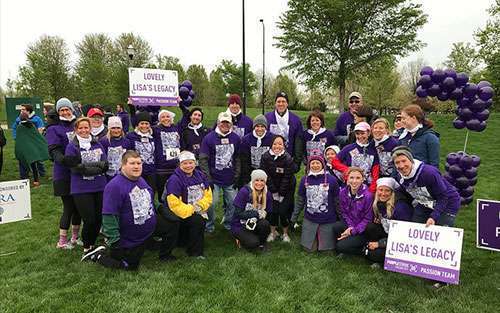 Chicago and the Raleigh-Durham, N.C., area were a bit more purple than usual this past Saturday, as a combined 4,800+ came out to walk to end pancreatic cancer at PurpleStride.
In Chicago, more than 3,150 pancreatic cancer survivors, families, friends, coworkers and other people passionate about raising awareness and funds for the disease showed up at Soldier Field, decked out in purple T-shirts, leis, hats, tutus and other costumes. More than $610,000 was raised to support the Pancreatic Cancer Action Network (PanCAN) and initiatives designed to ensure it meets its goal to double survival for the disease by 2020.
PurpleStride Chicago was hosted by FOX 32's "Good Day Chicago" co-anchor Corey McPherrin and supported by national presenting sponsor Celgene.
Meanwhile, PurpleStride Raleigh-Durham, held on the campus of North Carolina State University, was hosted by WRAL-TV anchor Ken Smith with presenting sponsor Celgene.
More than 1,550 participants enjoyed walking, mingling, sharing stories and paying tribute to loved ones affect by pancreatic cancer. We estimate that the event has raised more than $212,000 this year.
Thank you to everyone who took part – by walking, raising money, donating and spreading the word. Take a look at photos from both events below!
Each year, more than 80,000 people in cities across the U.S. Wage Hope at PurpleStride, the walk to end pancreatic cancer. Funds raised through this signature event support such services as Precision Promise, Know Your TumorSM and the Patient Registry.
You can join in on the fun, too, and make an impact in the fight at the same time. Register today for your local PurpleStride.
PurpleStride Raleigh-Durham Photos: