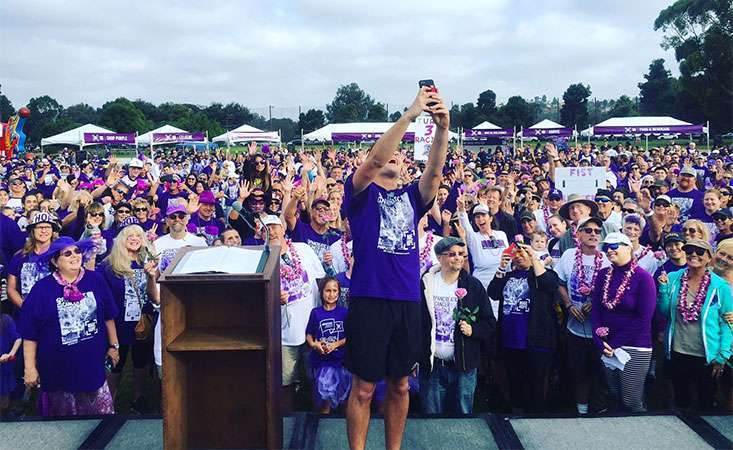 PurpleStride, the walk to end pancreatic cancer, surged from coast to coast the weekend of Oct. 7 as more than 3,000 people joined forces to raise awareness and funds for pancreatic cancer.
Despite the rain, over 1,400 participants attended PurpleStride Maryland, presented by Edward J. Friedman Foundation, Inc. at CCBC-Catonsville in Baltimore to honor the pancreatic cancer community. Emceed by FOX45 Baltimore TV host Chardelle Moore, the event raised nearly $260,000 – well over their goal – to aid in the Pancreatic Cancer Action Network's (PanCAN) mission to improve patient outcomes and double survival by 2020.
On the west coast, approximately 1,800 San Diegans gathered at De Anza Cove in Mission Bay Park for PurpleStride San Diego, presented by Halozyme, Inc. Participants came to celebrate and show support for patients and survivors as well as families and friends of those affected by pancreatic cancer. Funds raised from this event are projected to reach over $350,000.
PurpleStride San Diego was emceed by Miles Himmel, host of AM 760 and son of the late CBS 8 News reporter Larry Himmel, who lost his battle to pancreatic cancer in 2014. PanCAN Board Member Stuart Rickerson, who is also a 12-year survivor,  spoke to ABC affiliate 10 News about the event.
Thank you to everyone who chose to stride for the cause, and for those who donated to help fight pancreatic cancer. Because of you, PanCAN is able to provide vital resources such as Patient Services, Know Your Tumor® and Precision Promise℠.
Interested in learning more about PurpleStride, or want to donate to a participant or team? Visit PurpleStride.org for more information.