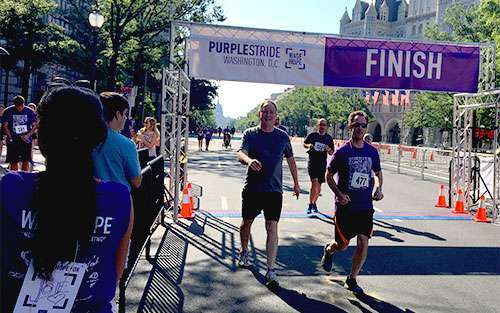 This weekend, we hosted three PurpleStride events in Washington, D.C., Northeastern Pennsylvania and Cleveland, OH . It was an absolutely huge weekend for the walk to end
pancreatic cancer, with our largest event of the calendar year so far, Washington D.C., crushing their goal, and the other two anticipated to hit goal as well!
Altogether, these events have raised more than $1 million combined to help the Pancreatic Cancer Action Network double pancreatic cancer survival by 2020.
In Washington, D.C., more than 3,075 individuals came together at Freedom Plaza to take a stand against pancreatic cancer. Participants were inspired and welcomed by Emcee Ed Henry, Chief National Correspondent for Fox News, and Special Guest Erin Willet, musician and semi-finalist from The Voice. The event's fundraising goal was $697,000, which was a large increase over last year; however, even before the event, Washington, D.C.'s participants took on that goal and exceeded it.
The numbers are still climbing, and with their event-day income included, we estimate that the event will end at more than $735,000. We are so incredibly proud of the efforts of our Washington, D.C. volunteer affiliate, and grateful to the members of our executive team, Rick Leonard, Michael Rosen, and Lynn Matrisian who also supported the event by attending yesterday.
Just a few hours away in Scranton, PA, more than 1,100 participants dedicated to the fight against pancreatic cancer came out to PurpleStride Northeastern PA. These passionate folks were hosted back at Lackawanna River Heritage Trail by emcee Peggy Lee, a reporter from WNEP's Newswatch 16. The event has raised more than $110,000 so far, and across Scranton, everyone from a local lacrosse team from Emmaus high school to local reporter and emcee Peggy Lee, from WNEP's Newswatch 16, to the local fire department, to Pizza restaurant and returning presenting sponsor, Pizza by Pappa's brought the Scranton community together to support this very worthy cause.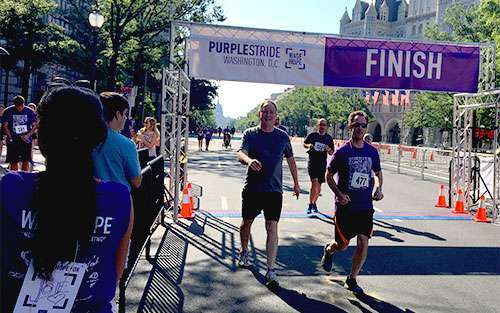 Further West in Cleveland, Ohio, an estimated 1,700 purple people, including about 200 who showed up to register on event day, walked to end pancreatic cancer and support PanCAN. The Cleveland community gathered back at Cleveland Metroparks Zoo and shared stories, mingled with the zoo animals, and honored loved ones affected by pancreatic cancer. We were pleased to have Emmy-award winning journalist from WEWS News on Channel 5, Frank Wiley, emcee the event. PurpleStride Cleveland was a great success, raising approximately $224,000 with event day funds included.
Thank you to every single person who came out, donated, fundraised and spread the word. Each year, at more than 50 events across the country, passionate supporters Wage Hope at PurpleStride, the walk to end pancreatic cancer. Funds raised through this signature event support such services as Precision Promise, Know Your TumorSM and the Patient Registry.
See photos from this weekend's events below. More will be added as we receive them.
PurpleStride Washington, D.C. Photos
PurpleStride Cleveland Photos