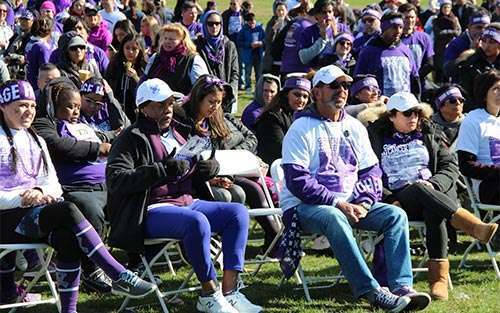 Prospect Park in Brooklyn, New York turned purple this past Saturday as the "Purple People" took to the streets to raise funds and awareness for pancreatic cancer. PurpleStride New York City welcomed 2,230 people and raised more than $620,000 to support vital pancreatic cancer research and patient services.
Katrina Edorsson, a two-time contestant on CBS's hottest show, "Survivor," emceed the event in memory of her father who recently died from the disease. "Good Morning America" weekend news anchor Ron Claiborne was the event's special guest and closing ceremony speaker.
During the event Katrina and Ron had the opportunity to meet Khushbu Kheti, a 28-year-old who is currently battling the disease. Her PurpleStride team, Team Khushbu, raised almost $80,000 – the highest amount ever raised by a PurpleStride team!
Survivors Barry Reiter of Jericho, New York, and Lupe Romero of Orange County, California, also attended PurpleStride New York City. PEOPLE Magazine spoke with Barry, Khushbu, and Lupe at the event and featured them in a post-event feature story. The interview also featured President and CEO Julie Fleshman, JD, MBA.
"It's so overwhelming to have such a great support system," Khushbu told PEOPLE Magazine. "It definitely gives me hope — that's half the battle."
PBS also featured PanCAN prior to PurpleStride in a pre-event interview on their MetroFocus show. The segment highlighted Julie as well as survivor and Advocacy Chair Franco Juricic.
To catch up on all the PurpleStride New York City happenings, visit the New York Affiliate's Facebook and Twitter page.
Wage Hope with us at PurpleStride, the walk to end pancreatic cancer, by registering for an event near you!