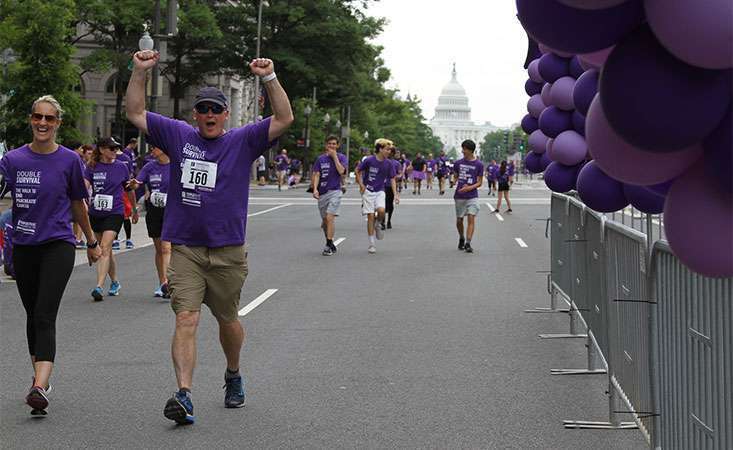 The Pancreatic Cancer Action Network (PanCAN) is proudly celebrating its first $1 million PurpleStride event – and thanking the passionate and committed fundraisers and donors who came together to reach the historic milestone.
Record attendance and donations, including the largest gift from a single contributor to the event by the Judy and Peter Blum Kovler Foundation, led to the monumental achievement by PurpleStride® Washington, D.C., 2019, the walk to end pancreatic cancer.
More than 3,600 attendees, including 53 pancreatic cancer survivors, 308 teams and 140 Grand Club members, took part in the festivities on June 8.
"This is an exciting milestone for PanCAN," said PanCAN President and CEO Julie Fleshman, JD, MBA. "We know it is the first of many PurpleStrides that will raise more than $1 million, and we are extremely grateful to all the donors, and especially the Judy and Peter Blum Kovler Foundation, for making it happen."
The Judy and Peter Blum Kovler Foundation had initially donated $100,000 to PurpleStride Washington, D.C., as a Premier Sponsor, but later increased their gift by $70,000 when they saw how close the event was to hitting the $1 million mark.
"My hope in making this large gift is that other philanthropists will follow our lead," said Peter Kovler, former PanCAN Board of Directors president and president of the Foundation. "We continue to support PanCAN because of the positive impact they are having on patient outcomes."
PurpleStride events, which are volunteer-led, raise money to support PanCAN's mission to improve outcomes for pancreatic cancer patients and to raise awareness about the disease nationwide. Of the nearly $40 million PanCAN raised in fiscal year 2019, which ended June 30, PurpleStride events across the country brought in $14 million.
Attendance at PurpleStride and awareness of pancreatic cancer has been on the rise, due in part to high-profile celebrities such as Alex Trebek and Aretha Franklin, who have been affected by the disease. However, despite this trend, pancreatic cancer research continues to be underfunded and there remains an urgent need to increase both private and federal funding.