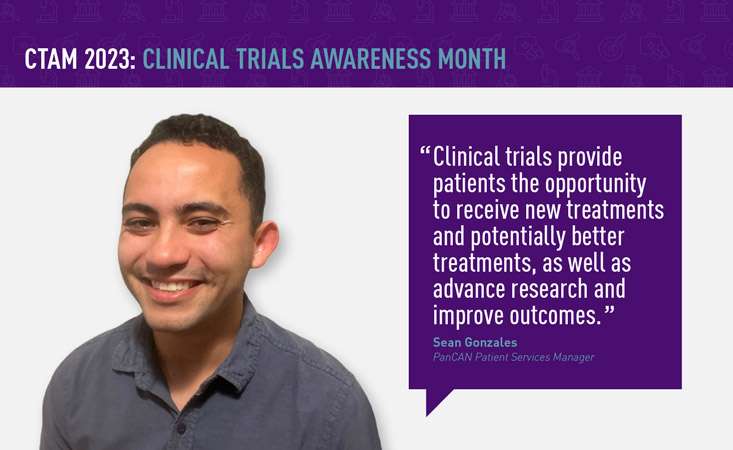 For patients with pancreatic cancer, clinical trials are an important treatment option to consider. PanCAN recommends clinical trials at diagnosis and during every treatment decision. But how do you navigate the search and narrow down options? How do you enroll in a trial and manage day-to-day considerations like travel? In this blog post, PanCAN Patient Services Manager Sean Gonzales talks about the steps involved in finding and enrolling in a clinical trial and how PanCAN can be a partner in the process.
When should patients consider a clinical trial?
Patients should consider clinical trials at diagnosis and during every treatment decision. Since each clinical trial's eligibility criteria is unique, there are trials looking for patients at every stage of their disease, from those who are newly diagnosed to those whose tumor has progressed on one or more lines of treatment. I often say that clinical trials provide patients the opportunity to receive new treatments and potentially better treatments, as well as advance research and improve outcomes. So definitely an option for patients at every stage.
Walk us through the process of contacting PanCAN to begin a clinical trials search. What can a patient expect?
It's quite easy to start the process. A patient would call or email PanCAN Patient Services and express their interest in finding clinical trials. They would be connected with a Case Manager who'd be able to provide one-on-one support. Patients should expect to be asked some questions necessary to run a search, including the stage and type of pancreatic cancer as well as their full treatment history. These things are important to know because they affect eligibility criteria for trials. For those who want to do some searching on their own first, we also have our free Clinical Trial Finder available online for anyone to access at any time.
What happens next? How do patients move forward after receiving results?
After the Case Manager runs the search, they can send the information however the patient would prefer to receive it. We can send it through postal mail, but most of the time we would send it via email. Patients receive a list that includes the name of each clinical trial, the study number, the interventions and where it's located as well as an abbreviated synopsis of the eligibility criteria.
As the next step, we always encourage patients to take that list to their doctor. We narrow down trials based on things like treatment history, stage and type of pancreatic cancer. Beyond that, the trials could have additional criteria related to a patient's medical history and their laboratory results – things that the doctor would best be able to help address. We want patients to take that list to their doctor and open up a conversation about clinical trials.
RSVP
for our free webinar on Jan. 26, "Pancreatic Cancer Clinical Trials: What You Need to Know," featuring PanCAN Patient Services Manager Sean Gonzales and fellow treatment experts along with a pancreatic cancer survivor.
How does a patient enroll in a clinical trial? What are the necessary steps?
When we send out the clinical trials list it will include phone numbers for the clinical trial sites. As a first step, either the patient or the doctor can reach out to express interest in the trial. From there, the doctor or patient would need to have some basic information about their diagnosis like disease stage, if and where the cancer has spread, the results of any tests or scans and treatment history. On our end the Case Manager narrows down the results while the doctor can help focus the list further, but patients still need to go through a screening process at the trial site. After the initial screening over the phone, a patient would typically set up an appointment with the trial site.
From there, they may undergo additional scans or tests at the appointment. If a patient is considered eligible, they would need to go over necessary consents for the trial as well – a process to make sure the patient fully understands and agrees to be part of the trial. Sometimes we hear from patients that they have difficulty reaching a trial site. They can ask their doctor to reach out. As Case Managers, we are happy to help as well. We can always reach out on their behalf, and we can look for additional contact information for the trial site.
How does biomarker testing relate to clinical trials? How should patients be thinking about biomarker testing as they search for clinical trials?
First and foremost, we definitely recommend all patients with pancreatic cancer undergo biomarker testing of their tumor in order to determine any mutations or alterations. PanCAN can run biomarker-driven clinical trial searches, essentially utilizing their mutation information for personalized searches.
If we have the patient's tumor biomarker information, we can expand our search to solid tumor trials that are specific for that mutation. These trials aren't necessarily targeting pancreatic cancer specifically; they are more general solid tumor trials targeting one of the mutations found in their tumor. This takes about 48 hours, as opposed to 24 hours for a pancreatic cancer-specific search.
PanCAN's
Know Your Tumor
precision medicine service provides eligible pancreatic cancer patients and their oncologists with information about the patient's biology through tumor tissue biomarker testing and genetic testing for inherited mutations. Contact
PanCAN Patient Services
to learn more.
What other factors should patients be thinking about as they consider clinical trials?
Travel is an important consideration, since different trials may require multiple visits to the study site per week or month. Some clinical trials have budgets to help patients travel to and from their trial site. It is worth asking the clinical trial site directly if they provide any assistance for someone who is further away. Also, there are resources that may be able to help for ground and air travel. If overnight lodging is an issue, organizations can help coordinate housing for patients. PanCAN Patient Services can be a resource for connecting to these types of programs.
It's also important to remember that we can always re-run clinical trial searches. Trials opens and close on an ongoing basis. Even if patients are currently on a successful treatment, they can reach out to us to look into clinical trials for future treatment decisions or to get an understanding of what clinical trials may be available to them. PanCAN Patient Services is here to help every step of the way!