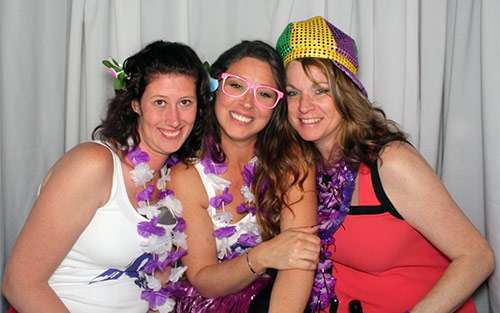 Rachel Witt knew how much her mom, Sherri Ellison (MIM to everyone), loved the ocean. MIM lived with Witt and her family in Cincinnati and took care of the kids. She started having symptoms consistent with pancreatic cancer about a year ago but wasn't diagnosed until last November – and she refused all treatment. So Witt knew Thanksgiving and Christmas would be a very big deal that year. And in January, the family took a special beach vacation to indulge MIM's love of the ocean. MIM passed away in March of 2017.
Witt had told her mom she just wasn't going to sit back, so she jumped into action. She had joined a Facebook group on pancreatic cancer, and she posted a question about ideas on places to donate. She got a response from someone right there in Cincinnati. The Pancreatic Cancer Action Network was the best place, they said. After a fundraising brainstorm session with friends, she decided to throw a luau to honor her mom's love of the beach.
In a whirlwind seven weeks, the luau came together spectacularly. A close family friend who knew and loved her mom volunteered to have his business sponsor the luau, which paid for the hall and food. With the invaluable help of her friends, there was an auction featuring more than 55 baskets, as well as a 50/50 raffle. A photo booth and DJ provided entertainment.
Of the night, Witt said, "There were probably 200 people there, and out of that, only about 25 I didn't know." Family and friends filled the hall, in honor of MIM.
Witt lives in a tightknit community, so she had distributed fliers in the neighborhood and through workplaces to promote the luau in advance. Facebook, she said, was key in getting the word out. A local pizza shop, owned by another close family friend, donated 10 percent of sales for a day. All of the funds raised will go toward PurpleStride Cincinnati and Witt's Team MIM.
She is already thinking ahead to next year. "I only had seven weeks to plan for this year," she said. "Now, I have a whole year." She said she's new to fundraising, so she has a lot to learn. And with an uncle also diagnosed with pancreatic cancer, more motivation, too.
About next year?
"I'm going to need a bigger venue. Three hundred people, $15,000 – that's my goal."
Follow Team MIM here as they Stride to end pancreatic cancer.
Interested in planning your own tribute event to fundraise for PurpleStride? Contact Elaine Matteucci at ematteucci@pancan.org for more information.