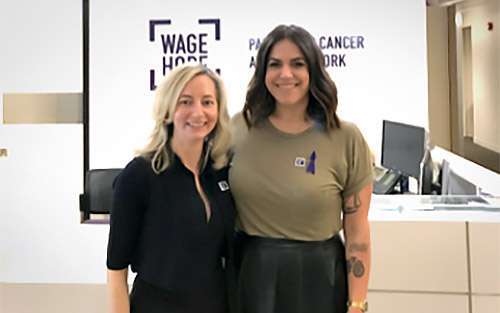 Erin Willet, the singer, songwriter and reality TV star, utilizing her platform to provide hope for families affected by pancreatic cancer, visited the PanCAN office.
The former "Biggest Loser" and "The Voice" contestant met with staff and senior leadership to express her gratitude for PanCAN's work to double survival by 2020.
"I'm one of those people you're affecting on an everyday basis. Now that I'm at the headquarters, I can connect the pieces to all of you and your great work."
Erin partnered with PanCAN in 2012, just a few months after her father died from pancreatic cancer. Since then, she has participated in the 'Evening with the Stars' and 'Celebration of Hope' galas and attends PurpleStride events across the country. She is slated to sing the national anthem at PurpleStride D.C., taking place at Freedom Plaza on June 10.
Erin currently serves as a PanCAN Influencer of Hope, a community of people committed to helping us reach our goal to double survival by 2020. Influencers of Hope also encourage everyday heroes within their communities to take action against pancreatic cancer, the world's toughest cancer.
"Anything I can do to raise visibility, I'm willing to do. Especially, if it will provide hope for others."
For those in the D.C. area, please join Erin at PurpleStride D.C. by registering today. Use special discount code "ERIN" to receive 20 percent off registration. Register at purplestride.org/dc.