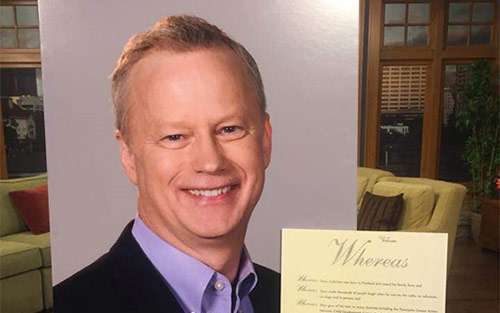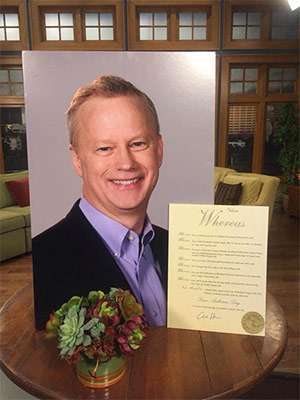 Our friend Dave Anderson died of pancreatic cancer on Feb. 7, 2016, after a two year fight. He was 55.
The comedian and on-air TV and radio personality was a supporter of our organization and actively involved with the Portland Affiliate.
To honor Dave's life, the Portland Affiliate partnered with local TV station KATU for a special event, Dave Anderson: Love and Laughter on April 25. The event honored their beloved colleague.
As supporters shared at the memorial event, Dave possessed an effervescent spirit full of life and remained optimistic even after his diagnosis. He refused to succumb to dismal pancreatic cancer statistics. Instead, Dave used his television and radio platforms to raise additional awareness for one of the nation's deadliest cancers within the Portland community.
During his AM Northwest show on KATU-TV and the Mark and Dave Show on KPAM-AM, he once said, "We do not have a sexy cancer so we have to work on awareness," which is exactly what he did!
Dave was introduced to the Pancreatic Cancer Action Network by his doctors. From there, the Portland Affiliate connected with him and cultivated a strong relationship, leading to his participation as PurpleStride Portland's 2014 and 2015 emcee. His unwavering support and dedication to Wage Hope in the fight against pancreatic cancer was commendable, and a reflection of his natural self.
As a result of Dave's compassion to his community, April 25, is now proclaimed Dave Anderson Day by Portland Mayor Charlie Hales. Close to 1,000 people gathered at Rolling Hills Church to remember the beloved stand-up comedian and media personality at KATU's tribute event. In all, the event raised more than $2,000 that will be donated to Team Anderson for PurpleStride Portland.
The memorial event was hosted by Dave's "TV wife" on AM Northwest, Helen Raptis, and his other co-host on the Mark and Dave Show, Mark Mason, and provided and eclectic array of entertainment for the evening.  A handful of Dave's talented friends performed side-splitting comedy skits that had the crowd rolling in laughter. A heartfelt song written in honor of Dave was also performed by local musicians. Throughout the evening, video clips of the comedian's best on-air moments were played. A special video cameo from good friend and fellow comedian/actor Richard Lewis was shown to all those in attendance.
Nora Moolenkamp, two-year pancreatic cancer survivor and Advocacy Chair for the Portland Affiliate, gave a powerful speech highlighting Dave's involvement with the organization. Nora stood up on behalf of the local affiliate to praise Dave for his passion and commitment to our Vision of Progress – to double pancreatic cancer survival by 2020. In Nora's words, "Dave stood as a beacon of hope for all of us to see."
The event concluded with a slideshow of photos and video clips taking the audience through highlights of the Portland community united to not only raise awareness for pancreatic cancer, but to pay their respects to our friend, Dave Anderson.