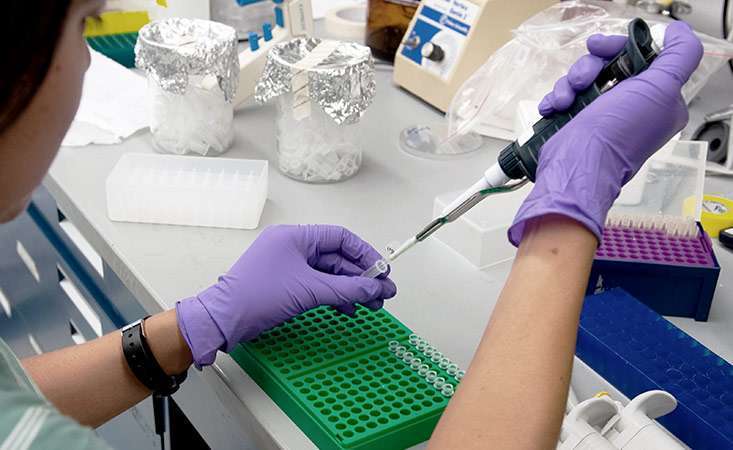 A multi-institutional research team, including Vinod Balachandran, MD, and Steven Leach, MD, set out to ask an important question: "What differences influence whether a pancreatic cancer patient will survive for a long or a short time after surgery?"
Balachandran is a member of the Pancreatic Cancer Action Network (PanCAN) Precision PromiseSM Immunotherapy Working Group. Leach, currently the director of the Norris Cotton Cancer Center at Dartmouth, received a 2015 Research Acceleration Network (RAN) Grant from the Pancreatic Cancer Action Network to help find answers.
Published today in the highly prestigious journal Nature, the research team found two important clues that differentiate short- and long-term survivors. First, tumors of the rare long-term survivors (defined in this study as patients who survive more than three years following surgery) showed 12-times higher numbers of "killer" T-cells infiltrating their tumors – cells of the immune system that are poised and ready to destroy any foreign invader, including cancer cells. Additionally, the team discovered that long-term survival is linked to T-cells recognizing novel mutations on cancer cells (called neoantigens) recognized as foreign by the immune system.
Based on these striking findings, Balachandran, Leach and a team of researchers are developing a clinical trial of personalized cancer neoantigen vaccines in a spectrum of cancers, including pancreatic cancer.
The concept of immunotherapy revolves around harnessing a patient's own immune system to recognize and attack their tumor.
"To date, immunotherapeutic approaches to treat pancreatic cancer have not yet yielded major clinical successes," said Lynn Matrisian, PhD, MBA, chief science officer at PanCAN. "Dr. Balachandran and Dr. Leach's elegant work helps shed light on possible new treatment options – better ways to select pancreatic cancer patients who may benefit from immunotherapy, as well as new immunotherapies, such as personalized cancer vaccines, to treat pancreatic cancer."
The researchers' study provides insight into ways to improve immunotherapy – for both the patients who possess the immune characteristics predictive of longer-term survival and for the patients who do not.
"Our work may help establish upfront which patients may benefit from certain types of immunotherapy, such as checkpoint blockade," said Leach, who's also a member and immediate past chair of PanCAN's Scientific and Medical Advisory Board. "We are also working on devising ways to mimic the neoantigens present in longer-term survivors to benefit patients whose tumors have lower levels of these factors."
Leach continued: "We are so grateful for the PanCAN RAN grant that allowed us to conduct this study and determine immune characteristics of long- and short-term pancreatic cancer survivors. We are confident that these findings will help improve outcomes and move us closer to our goal to double pancreatic cancer survival by 2020."
To allow PanCAN to continue funding critical scientific and clinical research projects, please donate today.