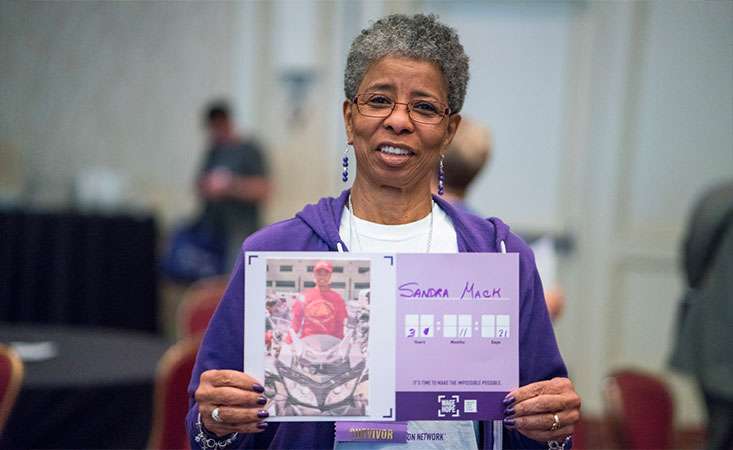 As a member of PanCAN's Survivor Council, Sandra Mack ensured that the survivor's voice was integrated into all of PanCAN's programs and services.
As a PanCAN advocate in Washington D.C., for Advocacy Day, Sandra made sure that her story was heard by her elected officials, urging them to support increased funding for pancreatic cancer research.
As the Outreach Chair for PanCAN's Columbus Affiliate, Sandra built deep connections with her community, raising awareness and encouraging engagement.
And as the face of PanCAN PurpleStride 2017, Sandra inspired tens of thousands of participants to raise funds to fuel critical programs and resources for pancreatic cancer patients and their families.
Sandra passed from the disease on September 8, 2022, and our PanCAN family sends profound condolences to her family and community, and is grateful for her leadership and  commitment.
Sandra's own story clearly illustrates that leadership and commitment.
She joined the Columbus Police Department in 1975, one of the first class of women who were allowed to train to work patrol and she loved her work, but those early days weren't easy. She then moved into teaching, educating high school students in the subjects of Law Enforcement and Criminal Justice, retiring in 2010 – and buying a CanAM Spyder motorcycle as a retirement gift to herself. That first year, she logged over 3,600 miles.
Two years after her retirement, Sandra was diagnosed with pancreatic cancer.
Sandra found the Columbus Affiliate as she was looking for a survivor support group – a place to talk to other pancreatic cancer survivors.
Survivor Council Alum Cathy Schwandt, who brought Sandra to the Survivor Council in 2021 said, "I met Sandra at my first affiliate meeting –she had never met another survivor. She was a rock star to her family and friends."
Leah Cordy, PanCAN Community Relationship Manager, was one of about 10 members of  the PanCAN family who attended Sandra's Celebration of Life.
"The entire church was packed," Leah said. "At least half of the slideshow featured photos of Sandra smiling at PurpleStride, sporting her favorite purple outfits. Times like these are never easy, but they remind us how important it is that we continue the work we do."
Connect with others affected by pancreatic cancer. Contact
PanCAN Patient Services
for resources, support services or with any questions you may have about pancreatic cancer.