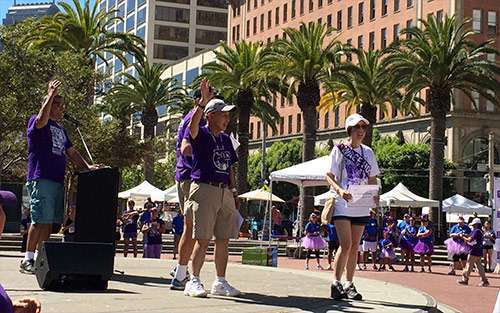 From coast to coast, PurpleStride – the walk to end pancreatic cancer – made its way through cities large and small this weekend. Detroit and Connecticut hosted their 5K events on Saturday, and San Francisco hosted its walk on Sunday. More than 3,100 people in total came out to walk, cheer, high-five, remember and celebrate loved ones, the day and individual and team fundraising successes.
On the east coast, PurpleStride Connecticut – held in Meriden at Hubbard Park – brought some 1,100 supporters together in their purple T-shirts, tutus, costumes, hats and sashes. The atmosphere was inspiring as families, friends, co-workers and pancreatic cancer survivors connected and shared stories, experiences, favorite memories and more. More than $126,000 was raised, all of which propels the Pancreatic Cancer Action Network's mission to advance research, support patients and create hope in an effort to double pancreatic cancer survival by 2020.
PurpleStride Detroit, held at Chene Park downtown on the riverfront, saw 1,500 purple warriors showing up to end pancreatic cancer, many of them part of fundraising teams. The event has raised $225,000 at press time with event-day income included. Sherry Margolis, an Emmy award-winning TV anchor with FOX 2 News locally, emceed the event.
And across the country on the west coast, PurpleStride San Francisco took place at Justin Herman Plaza by San Francisco Bay. Special guest Joe Vazquez emceed this year's event. Vazquez is a national Emmy winner with a local TV news career that spans more than two decades. The event raised more than $195,000 to improve the lives of pancreatic cancer patients and their families. More than 550 people attended.
Thank you to each PurpleStride host city and most importantly, the volunteers who orchestrated these events and every person who came out to Wage Hope to end pancreatic cancer!
Each year, more than 80,000 people in cities across the country Wage Hope at PurpleStride, the walk to end pancreatic cancer. Funds raised through this signature event support such services as Precision Promise, Know Your TumorSM and the Patient Registry.
You, too, can make an impact this way. Register today for your local PurpleStride!
PurpleStride Connecticut:

PurpleStride Detroit:

PurpleStride San Francisco: