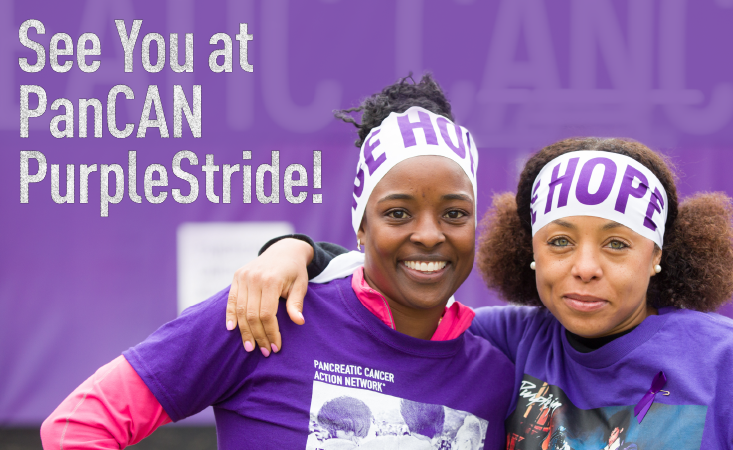 After two years of striding apart, the ultimate event to end pancreatic cancer is almost here. Can you believe PanCAN PurpleStride is tomorrow, Saturday, April 30, 2022?
We're so excited to see 60 communities across the nation come together on One Big Day to turn the country purple. You've done such a tremendous job raising awareness and funds to change the lives of pancreatic cancer patients and we're incredibly grateful.
The money you raise goes to fund groundbreaking research and critical patient-facing programs like PanCAN Patient Services. Simply put, you are funding hope for the tens of thousands of Americans fighting this disease every year.
We've put together some helpful tips for you to make your PurpleStride experience the best it can be. Thank you for taking local action and making an impact nationwide at PanCAN PurpleStride.
We want to see you taking steps to end pancreatic cancer! Whether you're attending in person or participating from wherever you are in any way you'd like with PanCAN PurpleStride USA, make sure to post your favorite pictures from the day on your social media. Don't forget to tag us @pancan and to use #PanCANPurpleStride.
We strongly recommend that you wear a mask at PurpleStride. Pancreatic cancer patients attending PurpleStride are among the most vulnerable, as they can be immuno⁠-⁠
We are taking additional special safety precautions at PurpleStride. Learn more about special safety measures in place at PanCAN PurpleStride 2022.
Please do NOT attend PurpleStride if you A) have tested positive for COVID-19 in the 10 days before PurpleStride, B) have been exposed to someone who has subsequently tested positive for COVID-19 in the 10 days before PurpleStride, or C) are actively experiencing symptoms of COVID-19 on event day.
We are unable to accept cash/check payments at the event. We will have a contactless registration, check⁠-⁠in, and donation process. (QR codes will be used for credit card donations). If you have checks for donations to submit to PanCAN, please do not bring them to PurpleStride. Instead, please indicate your event location and team name and mail them to:
ATTN: PanCAN PurpleStride
Pancreatic Cancer Action Network
1500 Rosecrans Avenue
Suite 200
Manhattan Beach, CA 90266
Thank you for all you do to create a world in which all pancreatic cancer patients will thrive. See you tomorrow at PanCAN PurpleStride!