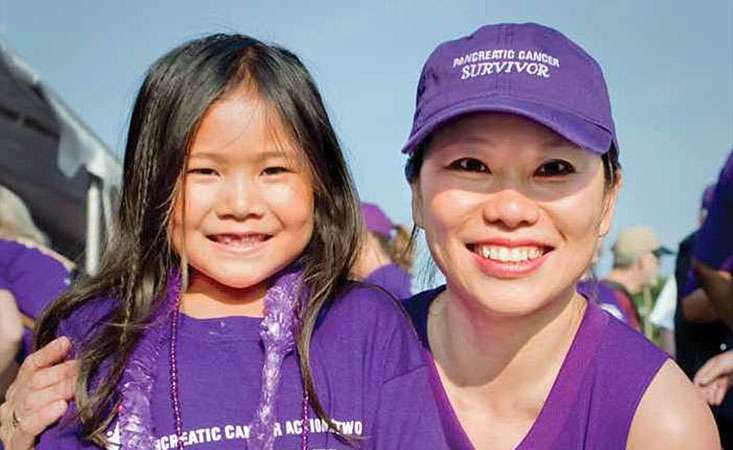 Editor's note: Ahead of PurpleStride Washington DC's  eighth anniversary on June 9, we are sharing an interview with one of its first-ever organizers and key fundraisers, Anne Shimabukuro. She shares her fundraising tips and her "someone" — her inspiration for volunteering and advocating for the cause — as part of our "It Starts with Someone" story series.
"At PurpleStride Washington D.C., we have several thousand people who come out," said Shimabukuro, a 12-year pancreatic cancer survivor and longtime organizer for PurpleStride Washington, D.C. "It is a wonderful way for people to learn about pancreatic cancer. It is also a way for those who are touched by it personally to feel the connection. They can see other survivors and the huge crowd of people in purple who are there to support them and raise money for this disease. It is really great to have that show of support that you can hear and feel."
Shimabukuro was introduced to the Pancreatic Cancer Action Network (PanCAN) through her doctor, who said the organization's website had accurate information on the disease. When Shimabukuro learned that PanCAN was organizing the first PurpleStride walk in Washington, D.C., she offered to do what she could to help. This meant drawing on her relationships with companies, professional contacts and family members.
"I was working at Marriott at the time and I had some connections in food and beverage and at our local hotels, so I started there. These relationships were wonderful in terms of helping us get all food and beverages donated. My husband's cousin is CEO of Kings Hawaiian, and they are a regular sponsor of the event, as well, and provide a cash donation that's very generous."
Today Shimabukuro continues to head up all the food and beverage for PurpleStride Washington, D.C., and fundraises through her team page. For others who want to fundraise but are unsure of where to begin, Shimabukuro offers these tips:
Personalize your team page: Give your team page a personal touch by adding a photo of you and your story.
Send emails through My Strider Central, (aka your Participant Center): Send emails to friends, family and coworkers and ask them to register or make a donation. Emails sent from your participant center will link back to your team page.
Share your personalized video: Use your personalized PurpleStride video to give your fundraising efforts a boost. Let the video tell the story about why we need to end pancreatic cancer and why it's important to support you. Visit My Strider Central to view and share your video.
Post on social media: Post on Facebook to attract potential donors inside and outside your network. Don't forget to post on LinkedIn, too. It is a professional site that can let you reach a different group of your connections.
So who is Shimabukuro's someone…her reason for getting involved today?
"In my family, the person originally involved in the cause was me as the patient and survivor. After several years forming a PurpleStride team, my husband's aunt was diagnosed. She was a regular member and fundraiser for my team.  Unfortunately, her story was the more typical one, where within about 12 weeks, she had passed."
Shimabukuro finds it incredibly meaningful to meet other survivors at PurpleStride Washington, D.C., including her "PurpleStride Pals" – other long-term survivors like her who come every year. Attending the event as survivors, they share their stories with patients who are undergoing treatment and their families. "There is such an outpouring of support, which is very visible and tangible."
Inspired by this story? You can make a difference, too.
Get involved
today.