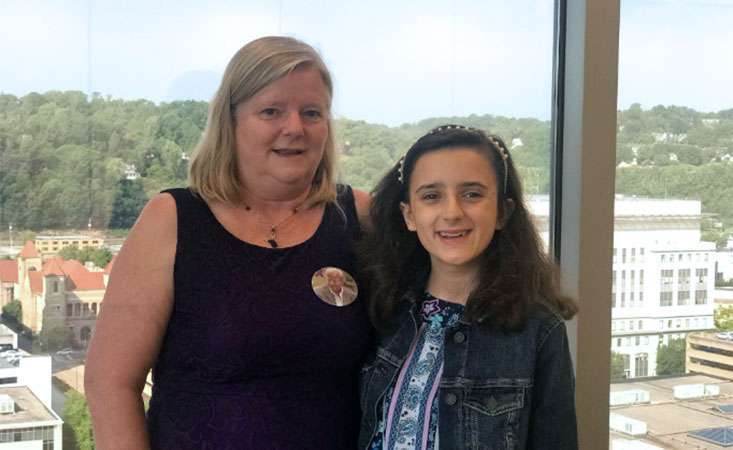 There are some things Annette Fetty-Santilli, community advocate for the Pancreatic Cancer Action Network's (PanCAN) West Virginia Affiliate, does every day. She always adds a dash of purple to her outfit, she always sends emails, and she always raises awareness for the cause through social media, local events and volunteer opportunities.
But on a recent day in May, a not so ordinary opportunity arose for this dedicated volunteer and pancreatic cancer activist. Fetty-Santilli got to show PanCAN's president and CEO, Julie Fleshman, JD, MBA, how the national awareness, fundraising and advocacy campaigns work in the Mountain State.
"I wanted Julie to get a feel for what West Virginia is like, and I wanted her to meet some of the people who benefit from the services PanCAN provides," said Fetty-Santilli. "I'm regularly in touch with legislators, so by inviting them, I gave them the chance to see how important their support is and how much their participation in our initiatives advances the PanCAN mission."
And this mission is an incredibly important one for Fetty-Santilli. Doctors diagnosed her brother Jim with pancreatic cancer when he was just 36. He died from the disease just 18 months later.
"I went to see him on the last day he was alive, and he gave me this big hug," said Fetty-Santilli. "He was so weak. I remember looking at him and being surprised he even had the strength for a hug. He died later that day."
That was back in 2007. Since then, Fetty-Santilli has dedicated dozens of hours each month to PanCAN as a volunteer. Often times, her daughter Stephanie pitches in to help.
"It doesn't matter whether you live in a big city or in a small town – pancreatic cancer doesn't discriminate," said Fleshman, who met with pancreatic cancer advocates and survivors in Clarksburg and Charleston, West Virginia.
"It can impact anyone, in any state, in any town. My visit with Annette and her daughter, Stephanie, and meeting many of the people that they have touched was inspiring and reminded me of the significant impact our volunteers have on our mission. I am so grateful to Annette, and volunteers like her, for helping us reach our ambitious goals and raise awareness across the nation." Both Fleshman and Fetty-Santilli said their time together is something they won't ever forget.
"All this hard work isn't going to do anything to help my brother," said Fetty-Santilli. "But, it could help my nephew, it could help my daughter, it could help a complete stranger. Everything I do is in my brother's memory so other people don't have to suffer like he did."
Inspired by Annette Fetty-Santilli's story? You can make a difference, too.
Get involved
today.