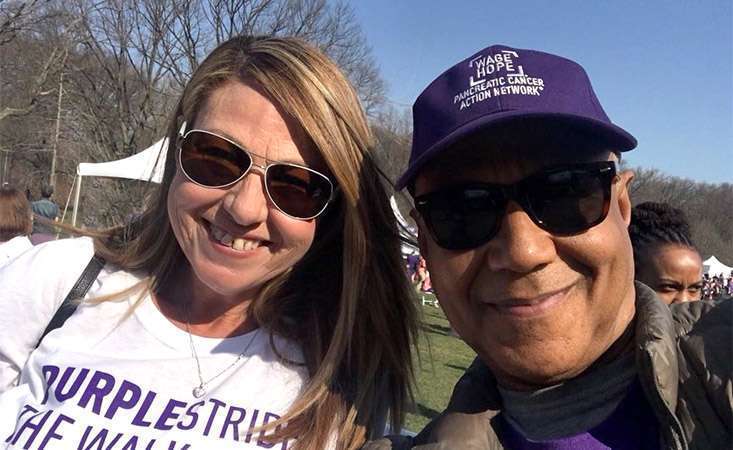 Editor's note: Our "It Starts with Someone" series chronicles all kinds of Pancreatic Cancer Action Network (PanCAN) supporters – volunteers, survivors, caregivers, advocates, researchers – and describes the "someone" who has impacted their efforts in the fight against pancreatic cancer. Camille Moses' "someone" is "Good Morning America" weekend anchor Ron Claiborne. This is their story.
When Camille Moses was diagnosed with stage IV pancreatic cancer in March 2012, all she wanted to do was visit her native home of New York City during Christmas.
"I thought it would be my last Christmas and wanted to see the Christmas windows because I had done that as a child," said Moses, who lives in Miami, Fla.
She also wanted to meet her favorite "Good Morning America" anchor, Ron Claiborne.  On a whim, she decided to message him on Facebook to see if a visit to the studio was possible.
"Now I'm going to embarrass myself," said Moses as she re-read the message she sent six years ago to Claiborne.
Hi Ron,
I have the biggest crush on you. I am battling stage IV pancreatic cancer. Since then I'm trying to do fun things with my daughter. We will be in New York City Dec. 7-10. Is there any way we can come to Good Morning America to meet you? It will be the highlight of my trip.
To her surprise, he responded immediately.
"I know more about pancreatic cancer now, but I didn't know a lot then. I knew this was very serious," Claiborne said. "I thought, if I can accommodate her, if I can grant her wish and have her come up, see the set and meet the people – great, I'd love to make it happen."
"The illness brought us together, but it's not what keeps us together. I don't think of Camille as the woman with pancreatic cancer who wrote me, I think of her as a friend coming up to visit."
— Ron Claiborne
From March through December that year, Moses underwent aggressive chemotherapy – consisting of 34 treatments – and was still on pain medication and treatment when she and her daughter, Jessie, visited the studio.
"I had neuropathy really bad. There were a lot of challenges to make that trip and my daughter had to help me," Moses recalled.
After her first visit to the studio, Moses felt a renewed sense of hope: "In my mind, that had really flipped the switch in me and I kept looking to the future."
"I didn't know she would turn out to be the coolest, strongest, most charismatic person I'd ever met," admitted Claiborne.
Six years later, coupled with a half-a-dozen visits and a few on-air segments, Moses and Claiborne's friendship is going strong and has touched the lives of countless people fighting the world's toughest cancer.
"My story has allowed me to help so many people," said Moses, whose last chemotherapy treatment was in 2013. "Ron has given me even a bigger platform to do that."
In November 2015, Claiborne tweeted a picture of him and her during National Pancreatic Cancer Awareness Month. Then in April 2016, he emceed PurpleStride New York City, the walk to end pancreatic cancer. That same year, the Pancreatic Cancer Action Network (PanCAN) recognized him as an Influencer of Hope for his commitment to raising awareness about the disease. On World Pancreatic Cancer Day 2017, he tweeted another photo of himself wearing a purple tie to help spread awareness.
"Every time she comes, she blows me away with her resilience, strength, good cheer and positive vibes," Claiborne explained. "The illness brought us together, but it's not what keeps us together. I don't think of Camille as the woman with pancreatic cancer who wrote me, I think of her as a friend coming up to visit."
Moses again traveled from Miami to New York City to join Claiborne for PurpleStride New York City 2018 this past April.
"People need to hear from Camille and other survivors: 'I can beat this. I'm still here. I'm going strong. You can too.' It doesn't matter what I say, but when people see Camille and hear her story, they pay attention," Claiborne added. "She's the person who gives them hope when many of those people have given up hope."
Are you inspired by this story? You can make a difference, too.
Get involved
today!