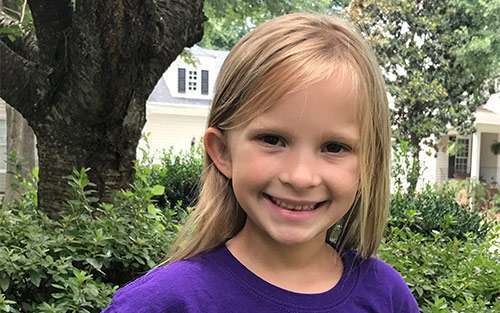 Like many kids across the country, Hailey Holt started back to school this week. At 6 years old, she was ready, even though she had a super fun and productive summer.
Holt set up a lemonade stand during her summer break to raise money for her family's PurpleStride Charlotte team, the "Honkin' Hodags," in memory of her grandfather, Jim Benson. Although he passed away before she was born, she has heard many stories about him and is happy she can honor him in this way. She also fundraises for her uncle's mother, Shirley Weber, who was affected by pancreatic cancer.
In addition to her lemonade stand, Holt draws pictures to help raise even more money. For people who donate $5 to her PurpleStride fundraising page, she will draw and mail them an original "Hailey's Choice Masterpiece." If you donate $10, she will draw and mail you a "Custom Masterpiece" – you can choose the picture you want. ("It may even have glitter on it!" said proud dad, Ryan Holt.)
We recently had a chance to ask Holt a few burning questions about why fundraising is important to her and what she's most excited about with PurpleStride Charlotte coming up on Sept. 9.
Q: Do you think that anyone, at any age, can give back in some way in their community?
A: Yes, I think anyone can do it. It's a nice thing to do, and it's important that we help one another.
Q: What would you say to other kids who want to help people but don't know what to do, or maybe their parents think they're too young?
A: I would say, "You can do what I did and believe in yourself," and if someone tells them they're too young, don't listen to them. Just keep doing what you think is right.
Q: What did people say to you when they bought lemonade from you?
A: They said, "Good job and keep going, and I hope you get lots of money for PurpleStride."
Q: What are you excited about at PurpleStride Charlotte in a couple weeks?
A: I'm excited to be an official volunteer, handing out food!
Q: Do you have an outfit or costume you plan to wear? Maybe you haven't thought about it yet – just curious!
A: Yes, my PurpleStride shirt and my purple shorts!
Q: What is your message to people affected by pancreatic cancer?
A: To believe that they are going to be OK and that I am going to help them.
Q: What do you want to be when you grow up?
A: A teacher, so I can help people learn.
---
Anyone can volunteer, fundraise and give back in their community. Get involved in your own way today!