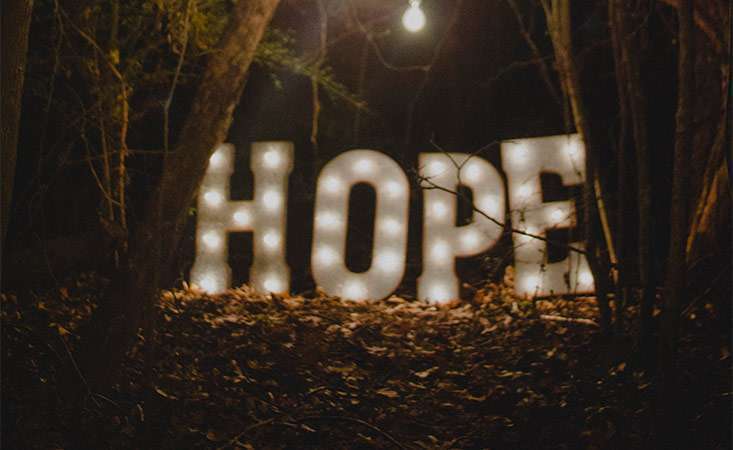 On the eve of a new year, hope and optimism, which for many is what this time is about, can be tough to find when facing a difficult situation or circumstance. Pancreatic cancer could certainly be one such challenge.
But research has shown that managing stress and remaining positive and hopeful helps keep both the body and mind strong. In fact, an informative webinar on this subject, "Hope and Healing: Lessons from the Oncology Front Lines," was hosted by the Pancreatic Cancer Action Network (PanCAN).
Going into 2019, consider these ways to stay positive and hopeful despite challenging circumstances.
Make Goals then Celebrate
Stay hopeful by setting realistic goals and then celebrating when you reach them.
Get dressed up for a night out on the town. Celebrate at the end of your evening with a glass of champagne or a decadent dessert.
Start working out with short walks around your neighborhood. Reward yourself with a new pair of sneakers.
Think of the last time you laughed until your sides hurt. Duplicate that day. Let your prize be a photobook of the event so you can relive the day over and over.
Live Each Day in a Big Way
Another way to feel hopeful is to live each moment of each day to the fullest.
Pull out your best dinnerware and fanciest wine glasses. Even if you're having cereal and orange juice for breakfast, you can enjoy them in a new way.
Slip into your favorite outfit. You know, the one that makes you feel like a million dollars. Put it on to run your errands, head to the doctor's office or even lounge around your house.
Who doesn't love dinner and dancing? Even if you're staying in, put on some tunes and your favorite dancing shoes and boogie in your living room. 
Don't Put Your Life on Hold
A cancer diagnosis may change the way you do your favorite activities, but it doesn't have to stop them. Check in with your medical team and if they give you the green light, indulge.
Traveling can open the mind and expand horizons. Take short day trips to nearby cities, venture off for long weekends a few hours away or vacation in faraway places you've always wanted to visit.
Make plans for birthdays, holidays and anniversaries. Have a Plan A for the main event and a Plan B for a smaller scale celebration in case you aren't feeling up to all the bells and whistles.
Have un-iversaries. This is when you celebrate those important milestones on alternate days. Stay up until midnight and make a New Year's toast – even if it's in the middle of August. Buy a cake and blow out your candles six months before your actual birthday. Make a Thanksgiving feast and invite your friends and family over no matter what time of year it is.
No matter what gives you hope and brings happiness, consider making it your 2019 resolution to indulge in those moments more frequently.
Contact PanCAN Patient Services for personalized, free, personal one-to-one support from a Case Manager. All information and services are provided free of charge because of the philanthropy of generous friends.