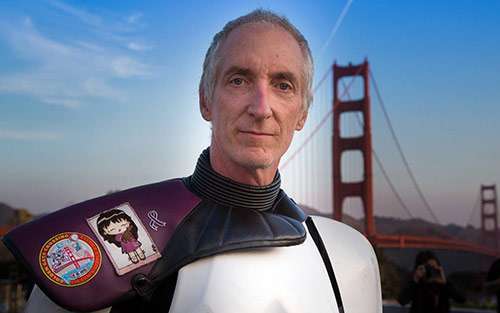 Not so long ago in a galaxy much closer to home, Kevin Doyle donned his Stormtrooper costume to march 501 miles from San Francisco to San Diego in honor of his late wife, Eileen, who passed away from pancreatic cancer in 2012.
As he prepares to celebrate his late wife's birthday on May 8, Kevin knows he created much-needed visibility for a cancer that, despite the dire statistics, is still in the shadows.
"I knew very little about pancreatic cancer and wished we were able to take advantage of the benefits of the Pancreatic Cancer Action Network when we found out about Eileen's diagnosis," Doyle recalled.
Kevin walked approximately 20 miles a day until he reached Comic-Con International. He knew Eileen, who was an avid costumer and would attend 501st Legion events herself, would be with him every step.
"The fight against pancreatic cancer needs to be more mainstream. The color purple needs to be as visible as pink is for breast cancer. The visibility will turn into action and participation, which will lead to fundraising, research and a cure," Kevin said.
Earlier this year, pancreatic cancer surpassed breast cancer as the nation's third-leading cause of cancer-related death with a five-year survival rate of just 8 percent.
Similar to the "Star Wars" movies, Kevin said his story is about conquering the Dark Side that pancreatic cancer can bring to people's lives. The Light Side is the hope, action, awareness and love that keeps people going and will ultimately prevail.
"One person can make a difference…with action, a word, a smile, inspiration, hope, "he added. "You won't know unless you take that first step as I did last June 6th and two and a half million steps later I am able to share Eileen's story, my story with you."
One thing is true: the force is strong with Kevin. Read his full story here.