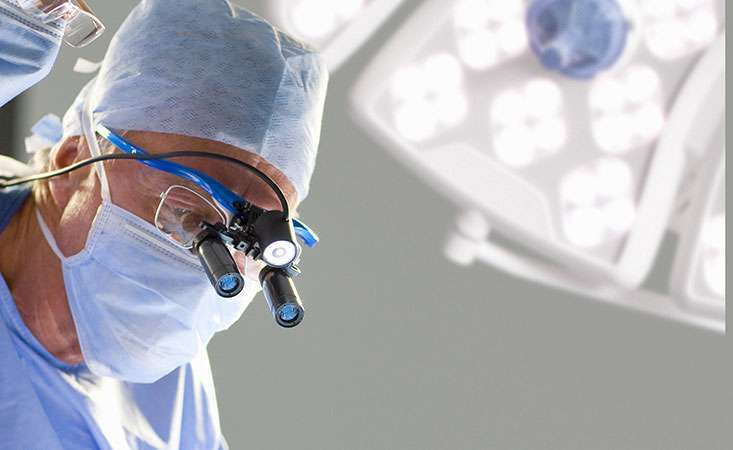 On day four of the American Society of Clinical Oncology (ASCO) Annual Meeting, results of two critically important phase III clinical trials were announced describing treatment options for pancreatic cancer patients who may be eligible for surgery.
Neoadjuvant therapy refers to treatment provided prior to surgical removal of a tumor, and adjuvant therapy is treatment given after surgery. Currently, fewer than 20 percent of pancreatic cancer patients are deemed eligible for surgery. And, as many as half of patients considered eligible do not end up having surgery. The Pancreatic Cancer Action Network (PanCAN) strongly recommends you see a surgeon who performs a high volume of pancreatic surgeries (more than 15 per year) to determine eligibility. PanCAN Patient Services can give you a list of high-volume pancreatic surgeons in your area.
Treatment Before Surgery Can Impact Outcomes
Today's news from the ASCO Annual Meeting provides updates about both neoadjuvant and adjuvant treatment regimens. On the neoadjuvant side, a research team in the Netherlands conducted a clinical trial that determined that neoadjuvant treatment benefited patient outcomes, as compared to patients who went to surgery first. All patients on the study were treated post-surgery with chemotherapy.
#ASCO18 news: Pre-operative chemotherapy with radiation helps people with pancreatic cancer live longer https://t.co/6vWc6xaW2M

— ASCO (@ASCO) June 4, 2018
"Many pancreatic cancer experts have disagreed whether treatment prior to surgery could improve surgical success and extend patient survival," said Lynn Matrisian, PhD, MBA, chief science officer at PanCAN. "It's very encouraging to see a large-scale clinical trial suggesting that neoadjuvant therapy can be beneficial."
Pancreatic cancer patients who participate in clinical research have better outcomes. Every treatment available today was approved through a clinical trial. PanCAN strongly recommends clinical trials at diagnosis and during every treatment decision.
Specifically, patients who participated in the neoadjuvant clinical trial either received a combination of gemcitabine chemotherapy and radiation therapy before surgery, or went to surgery directly after diagnosis. Overall, patients who received treatment prior to surgery had an average survival of 17.1 months, as compared to 13.5 months for those who went straight to surgery without prior treatment.
In this study, it's important to note that not all patients underwent successful surgery – in some patients' cases, surgery was attempted but the tumor couldn't be completely or safely taken out. Among the patients whose tumors were successfully removed, the investigators saw an even more striking difference between those who had neoadjuvant treatment and those who did not – an average overall survival of 29.9 vs. 16.8 months.
"These results may influence the standard of care for patients deemed eligible for surgery, suggesting improved outcomes when they receive chemotherapy and radiation before surgery," Matrisian said.
The Type of Chemotherapy After Surgery Is Important
And the adjuvant news at the ASCO meeting today, which has been gaining a lot of media attention, describes a benefit for patients receiving a modified version of a combination chemotherapy regimen, known as FOLFIRINOX, after surgery, as compared to gemcitabine alone. The trial took place in France and was conducted by the same clinical research team who initially found that FOLFIRINOX was beneficial for patients with metastatic pancreatic cancer. These results were announced at the ASCO Annual Meeting in 2010.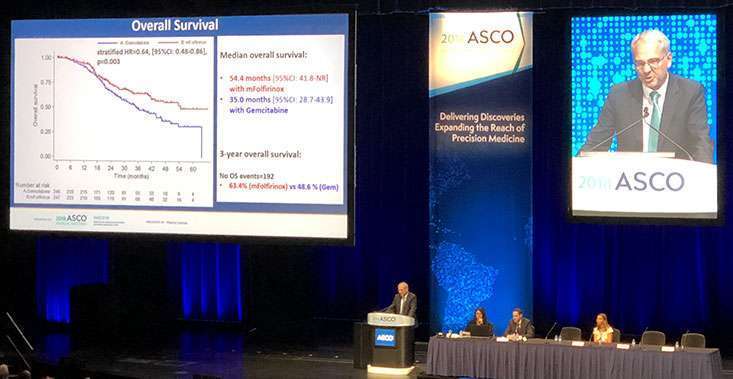 Thierry Conroy, MD, of the Institut de Cancerologie de Lorraine in Nancy, France, presents data about adjuvant FOLFIRINOX at the ASCO Annual Meeting.
"Modified FOLFIRINOX (mFOLFIRINOX) can be a very effective chemotherapeutic option for pancreatic cancer patients, but it can also cause severe side effects," Matrisian cautioned.
The patients selected to participate in this adjuvant study needed to be in excellent health and had to have undergone a successful surgery to remove their pancreatic tumor. On average, the patients treated with mFOLFIRINOX after surgery survived 54.4 months, whereas patients who received gemcitabine after surgery were found to have an average overall survival of 38.4 months.
Study finds rare advance in treatment of #pancreaticcancer https://t.co/YuzlgAov15 via @CBSNews

— Zahra Nealy (@zahranealy) June 4, 2018
Severe side effects were experienced by more than 75 percent of patients treated with mFOLFIRINOX, while about half of those treated with gemcitabine after surgery were faced with very serious side effects.
Seeing healthcare professionals who focus on symptom management and supportive (palliative) care improves outcomes and is critical for your quality of life. PanCAN strongly recommends that symptom management and supportive (palliative) care should be provided early in your diagnosis as well as during and after treatment.
"For the relatively small subset of pancreatic cancer patients who undergo a successful surgical resection and are healthy enough to tolerate this powerful chemotherapy combination, the study shows mFOLFIRINOX to be an effective option for adjuvant therapy," Matrisian noted.
She added, "Both of these studies represent a significant step forward in exploring the best management options for pancreatic cancer patients before and after surgery. We are grateful to the investigators who conducted these studies and, most importantly, to the patients who were willing to participate in the trials to allow the field to answer these critically important questions."
Contact Patient Central
with any questions about these studies, to help find expert pancreatic cancer surgeons near you and for information about pancreatic cancer treatment, clinical trials and supportive (palliative) care.