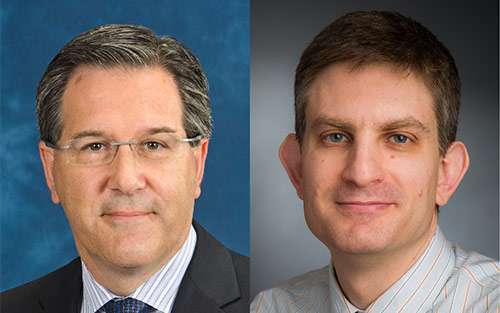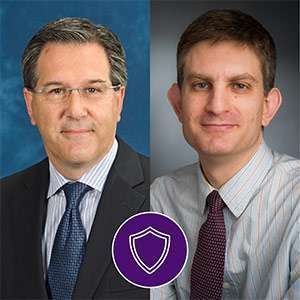 Thanks to the generosity of donors, we awarded our largest-ever grant of $2 million in 2016 to accelerate a large-scale clinical trial bringing a new immunotherapy to patients with pancreatic cancer. The Shirley Sadoff – Pancreatic Cancer Action Network Research Acceleration Network-2 Grant was supported by the generosity of The Henry and Marilyn Taub Foundation and was awarded to lead researchers David Linehan, MD, at the University of Rochester, and Brian Wolpin, MD, MPH, at Dana-Farber Cancer Institute.
Their novel treatment approach aims to block pancreatic cancer cells' ability to hide from the patient's immune system, so that the immune system can do its job of attacking and killing the cancer.
A continuation of promising research from Dr. Linehan's 2015 Translational Research Grant, also funded by the Pancreatic Cancer Action Network, this major clinical trial is a multi-institutional collaboration between Drs. Linehan and Wolpin, who both bring unique expertise to the project. Dr. Linehan's team is conducting the large-scale clinical trial, while Dr. Wolpin's team is simultaneously collecting and analyzing blood, bone marrow and tissue biopsies from patients at various stages of the disease and treatment – allowing the investigators to gain important knowledge from each and every patient treated with their regimen. Ideally, knowledge gained will help improve the treatment's effectiveness and help identify which patients are most likely to respond positively, so that this targeted treatment can reach the patients who would benefit the most.
Did you know?
Since 2003, we've awarded over $35 million through a competitive peer-reviewed process -- including 142 grants to 143 researchers at 55 institutions across the country.
Over our first decade of funding research, we supported 92 grantees who went on to publish 1,191 articles in peer-reviewed journals, cited more than 13,000 times. These grantees have leveraged each $1 from us to gain $8.28 in subsequent pancreatic cancer research funding.
New grantees will be announced in the summer of 2017. New grant opportunities open in fall of 2017.
May is National Cancer Research Month!
For National Cancer Research Month, we are highlighting some fantastic research advancements your support has helped make possible.
What does National Cancer Research Month mean to you? Join the conversation online by tagging @PanCAN and using the hashtag #NCRM17!
Read more extraordinary research stories here!