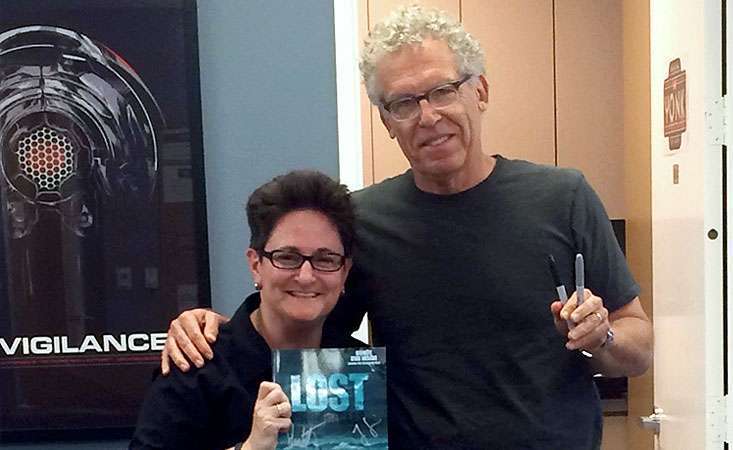 Jo Garfein is a bit of a self-proclaimed super nerd.
"I'm a huge pop culture dork," said Garfein, who lives in the Bay Area. "Instead of a man cave, I have a fan cave in my home office, and decorate it with cool collectibles. Most of the items I've collected are from the TV show 'LOST' – I even have a small piece of the airplane featured in the first episode."
But, it's only recently that others have started to call her a superhero, a title she said she'd never call herself, but appreciates the significance. "With even an ounce of power comes great responsibility," according to Garfein.
After her favorite show "LOST" ended in 2010, she attended an auction to buy a few items from the show. She saw how much fans would be willing to pay for a signed piece of pop culture history. That's when she and fellow LOST fan Jared Wong created Cancer Gets Lost (CGL), a nonprofit organization that hosts online and silent auctions, and donates all net proceeds to cancer charities.
CGL has nonprofit, tax exempt status thanks to a fiscal sponsorship by FJC: A Foundation of Philanthropic Funds. FJC is a 501c(3) public charity that provides management of charitable giving, and they have a top 4-star rating on Charity Navigator.
#LOST fans, we have a nice variety of items for you in our big online charity auction, like trading cards (fom a rare piece of Oceanic 815 signed by Damon Lindelof to a Charlie card signed by @DomsWildThings & full sets)! Auction opens globally on July 1. https://t.co/Zdku4lcgQd pic.twitter.com/SS730syU67

— Cancer Gets LOST (@CancerGetsLOST) June 7, 2018
"This is a labor of love," said Garfein, who spends upwards of 20 hours a week working on her passion project. "Cancer Gets Lost is entirely fueled by the kindness of fans and the actors, producers and writers of our favorite shows and films. I'll also buy pieces of pop culture or items from the shows and movies myself, and then network to get them signed for CGL auctions."
Since 2012, Cancer Gets Lost has hosted charity auctions with signed items from some of the biggest TV series and Hollywood blockbusters. Their smaller-scale auctions have already garnered more than $18,000 for the Pancreatic Cancer Action Network (PanCAN). But this year CGL is donating the net proceeds from their main auction, the one that brings in tens of thousands of dollars, to PanCAN.
While the decision to donate to PanCAN was an easy one, the motivation behind it came from a difficult, life-altering experience. Jo's mother-in-law Carolyn Calandro bravely battled pancreatic cancer for four years. She passed away from the disease at the end of 2017.
"She was the matriarch of five kids," Garfein elaborated. "She was like a mother to me for 20 years, and just an incredible woman. The 2018 Cancer Gets LOST auction is a way for us to honor her and all who are fighting this disease."
There are 80 TV shows represented in our online charity auction next month; the shows with the most items (in order):#The100 💯#TheWalkingDead + #FTWD 💀#LOST ✈️#OUAT 👸🏻#WynonnaEarp 🤠#Westworld 💃🏽#AgentsofSHIELD 😎

Details: https://t.co/Zdku4lcgQd pic.twitter.com/LjvddbE7sz

— Cancer Gets LOST (@CancerGetsLOST) June 6, 2018
The CGL auction features more than 400 autographed and rare items from 80 TV shows and 40 films, including "Westworld," "Black Panther," "Game of Thrones," "Riverdale" and "Star Wars."
While interested buyers can view some of the items online now in preview mode, they won't be available to register and bid until June 30. The auction closes on July 11, with items going to the highest bidders and all net proceeds going to PanCAN. Previous CGL auctions have generated a combined total of $200,000 for cancer nonprofits.
"Raising money for cancer nonprofits has been the most rewarding experience of my life," Garfein said. "Cancer Gets Lost exists because cancer affects almost everyone, and through our efforts this year we are trying to make a difference for pancreatic cancer research, for survivors and their families."
You can get a sneak peek of auction items on the Cancer Gets LOST Instagram and Twitter pages.
Get complete details, including how to register and purchase items, on Cancer Gets Lost's website.
You don't have to be a superhero to make a positive impact on the world. Turn your passion into progress – donate your birthday, host an event or create a tribute page for a loved one through 
Wage Hope My Way
. Your support is vital in the fight against the world's toughest cancer.