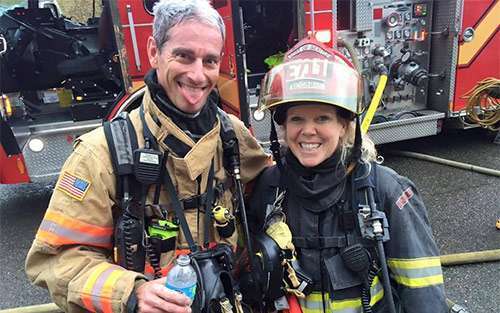 Here's something we can all agree on: Firefighters are heroes. So Merrick and Stephanie McGinnis already have that covered, with a combined 37 years with the South King County Fire & Rescue as a firefighter and Port of Seattle Fire as a firefighter and Captain, respectively. Add to that the fulfillment of a ten-year plan to bike from Boston to Seattle, raising money for five organizations, including the Pancreatic Cancer Action Network, in support of lost and struggling loved ones – and, well, that makes them superheroes.
Their well-plotted trail, dubbed "Because Some Can't," will cover 15 states in about a month and a half, bringing them back home to Seattle in mid-October. The initial plan was built around their youngest child's graduation from college, a love of traveling together and adventure.  But they realized it was bigger than all of that and that they had the opportunity to make a real difference. And by using Wage Hope My Way, the Pancreatic Cancer Action Network's do-it-yourself fundraising platform, their reach is as wide-ranging as the ride itself.
Each of the five beneficiary organizations represents a personal connection for the couple. Over the past few years, pancreatic cancer has affected their close-knit community of firefighters. In November of 2015, the couple lost one colleague to pancreatic cancer, and another was recently diagnosed.
"Cancer and life-altering diseases have touched our lives in too many ways," says Stephanie. "This coast-to-coast trip has become a way for us to raise funds for incredible causes near and dear to our hearts."
Follow the more than 3,200-mile journey of Merrick and Stephanie on their Facebook page and find their Wage Hope My Way page here.
---
Want to create a page for your own fundraising challenge? Find everything you'll need to Wage Hope My Way!