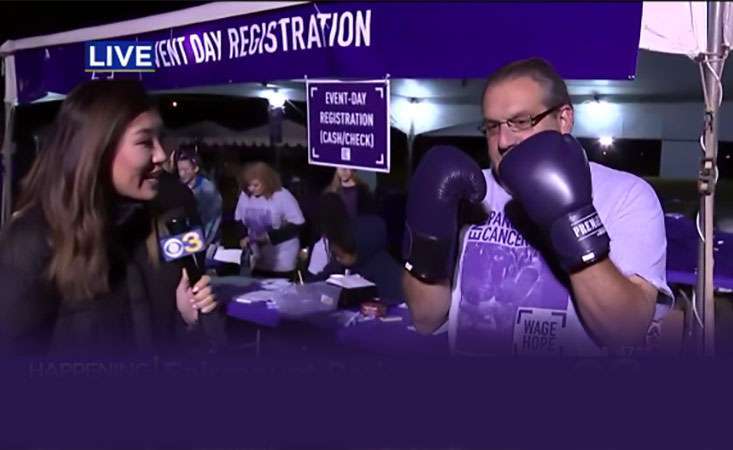 It's Pancreatic Cancer Awareness Month, and the focus this year is to "Demand Better. For Patients. For Survival." One of the ways that you can Demand Better is by participating in PurpleStride, the walk to end pancreatic cancer. Approximately 8,000 people took part in Jacksonville, Philadelphia, Silicon Valley, Boston and New Orleans over the weekend of Nov. 4 – 5 to Demand Better for pancreatic cancer. Altogether, all five PurpleStrides are estimated to raise over $1 million for research, better treatments and vital support for the pancreatic cancer community.
It was a crisp fall day in Jacksonville as 700 people came together at the University of North Florida to spread awareness of the disease. Funds raised from this event are estimated to be more than $100,000.
In Philadelphia, a crowd of more than 4,000 gathered at Memorial Hall in Fairmount Park for the event presented by Sidney Kimmel Cancer Center at Jefferson. PurpleStride Philadelphia is estimated to raise more than $740,000 to fight pancreatic cancer. Bruce Platt, chair of the Philadelphia Affiliate appeared on CBS Philly to talk about the event. "We're going to knock out pancreatic cancer," said Platt. "When my mom was in her final stages, she always complained that she never had a voice. I promised my mom, on her deathbed, that I would be her voice, stand up, fight and stomp out this disease."
On the west side of the country, more than 1,200 participants convened at Discovery Meadow in downtown San Jose for PurpleStride Silicon Valley. This event exceeded their fundraising goal by raising more than $340,000 for the cause.
PurpleStride Boston wasn't going to be left far behind. They knocked their fundraising goal out of the park by generating nearly $475,000 to fight the disease. More than 2,000 people attended the event at Boston Common to raise awareness for the world's toughest cancer.
Down south, Miss Louisiana 2017, Laryssa Bonacquisti, joined the sea of purple at PurpleStride New Orleans on Nov. 5. Bonacquisti lost her grandmother to the disease earlier this year and continues to use the Miss America platform to help raise awareness about the disease. "Although she lost her battle against the world's toughest cancer, I am determined to fight for those who continue to face this silent killer," said Bonacquisti.
Thank you to everyone who chose to stride for the pancreatic cancer community. Funds raised from PurpleStride allow the Pancreatic Cancer Action Network to provide vital patient services and support such as our  Patient and Caregiver Services, Know Your Tumor® and our Clinical Trial Finder.
PurpleStride brings the pancreatic cancer community together. We welcome you to join us and stride for them, too. To learn more and register, visit PurpleStride.org