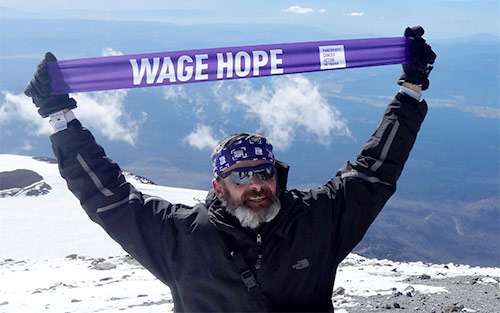 How do you take action during Pancreatic Cancer Awareness month? Have you participated in November awareness-related activities in the past?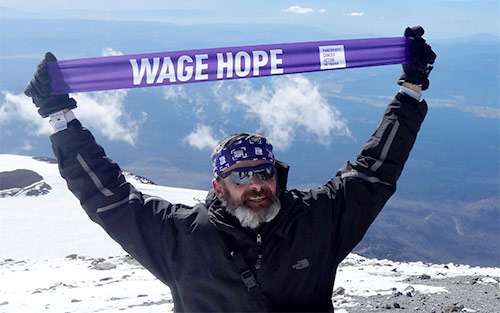 In November, my wife, Amy, and I celebrate both of our fathers' birthdays. My dad had renal cancer, and Amy's dad had pancreatic cancer (about 18 months before my own pancreatic cancer diagnosis). We participated in PurpleStride Portland last year and this year, and we also attended a Pancreatic Cancer Action Network leadership breakfast.
I also commemorated Pancreatic Cancer Awareness Month this year by buying a motorcycle on World Pancreatic Cancer Day! This is something I've wanted to do since I was young and thought it would be the perfect day to actualize one of my lifelong goals.
What does it mean to you as a survivor to have so many people in this country (and around the world) Wage Hope Together to raise awareness for the disease?
I'm very grateful for people coming together to Wage Hope in November. I believe in the power of collective energy and that we can make a difference together. Positivity matters. Knowing that so many people are praying or sending positive energy to me and other survivors means a lot. I can't stress enough the importance of positivity and hope, and there is no better medicine than gratitude.
This month always reminds me of the small but mighty gestures people have done over the years to show their support. For example, I had to take a year off coaching my daughter's soccer team during my treatment. So at one of the games I attended, all of the players were wearing purple socks to raise awareness for the disease and show their support.
Things like that help keep the hope alive and the fight going.
Join Joe and Wage Hope this month by getting involved your community!